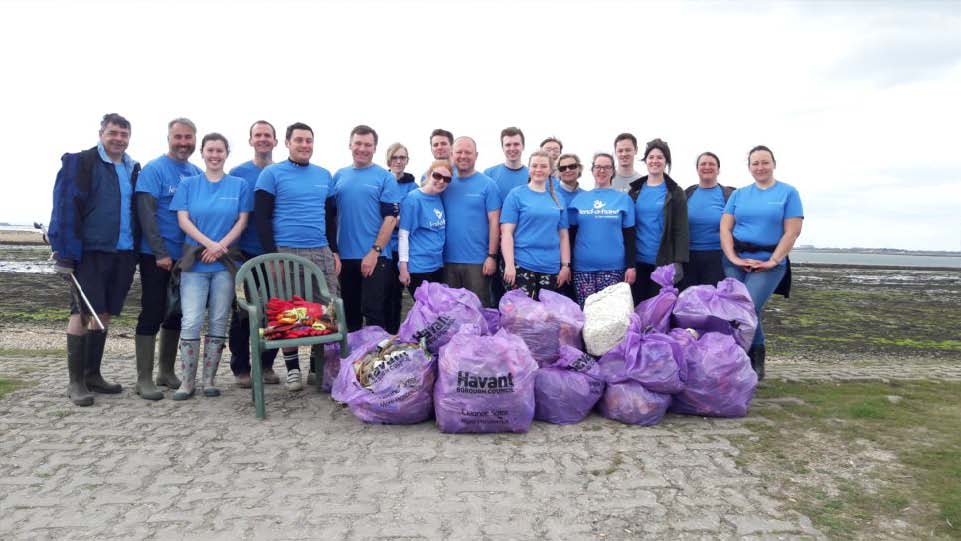 An enthusiastic group of 19 volunteers from Lockheed Martin UK Integrated Systems took part in a beach clean-up along the shoreline at Langstone Harbour.
The morning was facilitated by Community First and Friends of Langstone Harbour. The volunteers walked along the Hayling Billy Trail from Hayling bridge to the south of Stoke Common and managed to fill several large bags with rubbish collected from the shoreline and hedgerows.
Emlyn Taylor, Managing Director for the Systems Solutions said "I am immensely proud that we are a regular part of the movement to help conserve this beautiful stretch of coastline which is right on our doorstep. It was great to get out into the fresh air, spend some time with colleagues in an informal environment and do something worthwhile for both the wildlife and the people who enjoy the surroundings. This is my second volunteering day on the shoreline, and I will certainly be there for the next!"
John Worley from Friends of Langstone Harbour was very impressed with the hard work and enthusiasm from the Lockheed team. He said "It's been a lovely morning; I've never seen the harbour looking so tidy after the beach clean. This is a job that is only done by volunteers and we are so grateful for all their hard work today."
The weather was kind and along with the fantastic views of Langstone - an enjoyable morning was had by all.
Without the support of local businesses many charity and community groups would struggle. For more information about how you can get involved with the Employee Volunteering Scheme contact Rachel Taylor at rachel.taylor@cfirst.org.uk or telephone 0300 500 8085 Ext 9724