This is how Sir Terence Conran described Thomas Heatherwick, the subject of The Arts Society Portsdown's June lecture.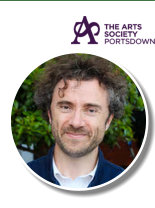 Heatherwick is perhaps best known to the British public as the man who designed the 2012 Olympic cauldron or 204 flaming petals, the Rolling Bridge at London's Paddington Basin and the 'new' London bus.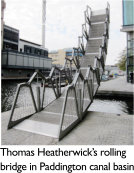 He is Britain's pre-eminent designer with an international portfolio stretching from New York to Shanghai and Cape Town to Singapore.
Anthea Streeter, an authority on post nineteenth- century architecture and design, delivered a fascinating illustrated talk which drew gasps of amazement from her audience as they were confronted by the sheer brilliance of Heatherwick's thinking. An early example of this was the famous Zip Bag for Longchamp which became a best seller in 2000.
In 2010 Heatherwick's budget design for the British pavilion at the Shanghai Expo, based on Kew Gardens' seed collection and featuring sixty thousand acrylic rods or 'hairs' each containing a seed, was the most visited of the over 250 pavilions and the winner of the best pavilion award.
Closer to home, visitors can see Heatherwick's work at the Bombay Sapphire Gin Distillery in Laverstoke where he stamped his mark in 2014.
Thomas Heatherwick is not a trained architect but a designer and maker who is interested in materials and the link between craft and architecture. The title of his acclaimed book, 'Making', sums up the passion which he has exhibited since his student days studying 3-D design in Manchester. As Heatherwick enlisted the help of his friends to construct his final degree project of a 'Sitooterie', he now brings his belief in the importance of sociability and collaboration to his workshop Studio where he literally surrounds himself with multi-disciplinary teams of creative professionals.
After whole-hearted applause from the appreciative audience the Chair of The Arts Society Portsdown, Diana Gough, thanked Anthea Streeter for an enlightening, stimulating and thoroughly enjoyable lecture.
www.theartssocietyportsdown.org.uk
portsdownmembership@gmail.com