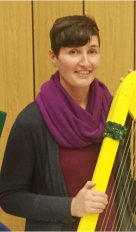 From the Harp is a new social enterprise that is providing high quality interactive and meaningful activity to boost health and quality of life through harp playing. From the Harp is run by Alice McGarvie, a registered occupational therapist.
Alice uses lightweight harps and other instruments for people to make music together. The harps can be played sitting, standing or even in bed, and no prior musical experience or knowledge is necessary.
Alice says "I love this work. I give clients a harp to play and watch the magic happen: mood, chatting, happiness and laughter all increase when the harps are around"
Alice, based in Portsmouth, brings this service, unique to the UK, to care homes and health groups along the south coast. From the Harp works with people living with dementia, learning disabilities, mental health difficulties, brain injury and many others. Alice's clients also include Portsmouth City Council, the Rotary Club and Southampton University.
Please contact Alice at From the Harp to discuss your requirements.
Web: www.fromtheharp.co.uk
Email: alice@fromtheharp.co.uk
Tel: 023 9286 1201