The Spring Arts and Heritage Centre in Havant has been awarded a £55,900 National Lottery grant through the Heritage Lottery Fund to record and celebrate the history of the town's Kenwood factory.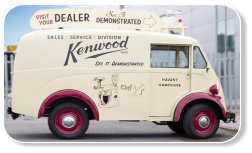 The project will tell the story of the internationally famous brand, which was founded by Kenneth Wood in 1947 in Woking and moved to Havant in 1962.
The Kenwood Chef, which was redesigned in Havant by Kenneth Grange, has played a major role in British social history, contributing to the transformation of the nation's post-war domestic life through the production of labour saving devices that helped begin to free women from their traditional roles.
While manufacturing transferred to China in the 1990s, the company's headquarters remains in New Lane, Havant, and has provided both employment and social opportunities for staff over many years.
The grant will fund the creation of a documentary film featuring interviews with former and current Kenwood workers and tracing the development of the company over six decades.
Mark Welch, managing director of Kenwood, said: "We are delighted the Spring Arts and Heritage Centre has been awarded this grant from the Heritage Lottery Fund. The project will highlight the role Kenwood has played in the local community for more than sixty years and enable both current and former workers to record their experiences of working for the company."