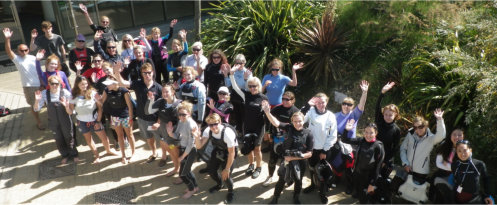 Hayling Island Sailing Club hosted its most successful Women on Water (WOW) event to date with thirty female sailors enjoying sunshine and near perfect sailing conditions for the three day training programme. Initiated over five years ago, this year's event attracted the most participants to date with 30 women ranging from 30 year olds up to 50 year olds enjoying outstanding tuition from the large group of experienced HISC RYA instructors and RYA Race Coaches.
To accommodate the popularity of the event, the course was split into two groups with an 'Improver' programme led by Melvyn Cooper which concentrated on a range of boat handling skills, racing skills and the finer points of start lines. Led by HISC's Marine Manager, Mitch Webb, the 'Beginners' group concentrated on more general points of sailing including tacking and gybing and accurate steering. Using their new found skills, the beginner group sailed to different parts of Chichester Harbour to experience the challenge of sailing in new destinations. The WOW fleet included a mix of single and two handed boats including the RS Aero, RS Vision, RS 2000, Quba, RS 200, Laser, Solo and also the use of the club's fleet of RS Ventures to sail down to Chichester Marina and back to Itchenor for lunch one day.
Commenting on the event, Lorraine Pound summed it up by saying, "Thank you for a great experience; that was the first time I had helmed off HISC and it felt like a great achievement!"
Conceived by Emsworth sailor Mary Alston over 10 years ago, WOW continues to be popular with a number of sailing clubs around Chichester Harbour. WOW is suitable for sailing beginners through to club racers and usually attracts a mix of rusty sailors, social sailors and those wishing to improve their skills and start racing. As a result of the success and enthusiasm generated from the 2015 HISC WOW event, the club will be putting on an additional 4 weekly days coaching in September for the group to refresh their skills and gain more on-the-water experience. The hugely successful HISC Get Racing Club was also promoted to the group as a way of encouraging them to experience the racing scene at HISC over the summer.
The HISC WOW (Women on Water) initiative takes place in June each year; for full details contact the Sailing Secretary Leah Brookes at sailingsecretary@hisc.co.uk or visit www.hisc.co.uk