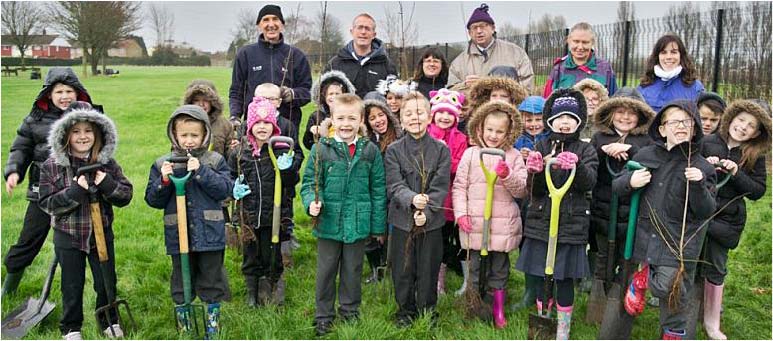 Havant is set to benefit from an exciting new initiative designed to give school children and residents access to free, healthy, seasonal food on their doorsteps through the planting of wild urban hedges.
The Tree Council has partnered with The Federation of Trosnant Schools to plant a 'Wild Hedges for Urban Edges' hedge, which is funded by the Esm Fairbairn Foundation. This is the second hedge to be planted as part of the project.
Havant Borough Councillors, volunteers from Groundwork, teachers, pupils and The Tree Council, together with Havant Tree Wardens planted fruit trees and over 500 hedging and fruit bushes along an existing bare fence line at the school grounds today.
Tree Council Programme Director Jon Stokes said 'We normally think of urban hedges as formal clipped green boxes, but if planted with fruiting trees and bushes and left to grow wild, with a minimum of level of cutting, hedges can provide a fantastic source of local, free, healthy food for both people and wildlife'.
Battins Ward Councillor Ralph Cousins said: 'The Council is always looking for innovative projects where it can help the local community build something they can enjoy for generations to come, in the hope that it reintroduces young people to the idea of foraging and gets them involved with planting, pruning and picking the fruit they have helped to grow.'
Clive Mulligan from the Trosnant School said ' We are delighted to be the first school in Britain to benefit from one of these wild hedges and it will form an invaluable part of our outdoor learning environment.