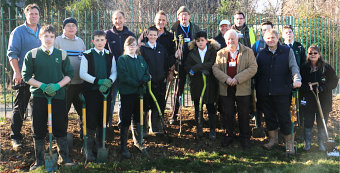 Havant is set to benefit from an exciting new initiative designed to give school children and residents access to free, healthy, seasonal food on their doorsteps through the planting of 'wild' urban hedges.
The Tree Council has partnered with Park Community School to plant a 'Wild Hedges for Urban Edges' hedge, which is funded by the Esmée Fairbairn Foundation. This forms the second phase of this new initiative from The Tree Council which aims to introduce town and city dwellers to the benefits of natural, wild hedges.
The project was launched at Southall Park on 5th December 2015 to coincide with The Tree Council's National Tree Week. This year's planting also in National Tree Week has taken place with students from all year groups and is the second hedge to be planted as part of the project in Havant.
Havant Council Alderman Ralph Cousins, volunteers from TCV, teachers, students, Friends of Hermitage Stream and The Tree Council, together with Havant Tree Wardens planted fruit trees and over 360 hedging and fruit bushes along an existing bare fence line at the school grounds today which adjoins the newly created footpath along the Hermitage Stream.
Tree Council Programme Director Jon Stokes said 'We normally think of urban hedges as formal clipped green boxes, but if planted with fruiting trees and bushes and left to grow wild, with a minimum of level of cutting, hedges can provide a fantastic source of local, free, healthy food – for both people and wildlife.' Alderman Ralph Cousins said: 'The council is always looking for innovative projects where it can help the local community build something they can enjoy for generations to come, in the hope that it reintroduces young people to the idea of foraging and gets them involved with planting, pruning and picking the fruit they have helped to grow.'
Christopher Anders, Headteacher from Park Community School said 'We were extremely keen for this project to go ahead to establish a link between the school restaurant and locally grown produce. Healthy cooking is one of our main aims and to show students where and how their food is grown is vital to their education.'
Jon also commented that 'Wild Hedges for Urban Edges' ties with the growing interest in wild food foraging and community orchards in the UK and builds on The Tree Council's Hedgerow Harvest campaign, which aims to reconnect communities with their local trees and hedgerows.'
The Tree Council strives to make trees matter to everyone and is committed to planting more trees of the right kind in the right places and inspiring people of all ages to care for the trees in their neighbourhoods.