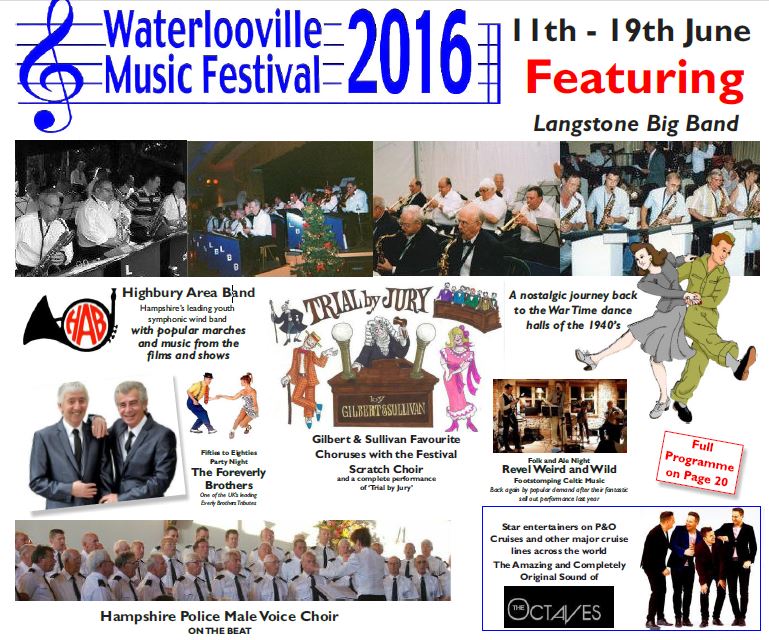 The Waterlooville Music Festival is the largest annual event in Waterlooville now in its eleventh year. Together with Waterlooville Business Association's "Market Place Music" on the first day of the Festival, you are invited to over 50 concerts, featuring soloists, choirs, instrumental groups and orchestras. Tuesday is Folk and Ale Night with the return of Revel Weird and Wild and Portsmouth Shantymen, a fantastic double bill combination that was a sell out success last year.
On Wednesday the festival is delighted that, after a gap of six years, it has managed to book The Hampshire Police Male Voice Choir, founded 1941 and celebrating its 75th anniversary, who are joined by Quintessential Brass, and on Thursday perhaps an even more exciting and special booking, a performance from a professional male harmony group with a huge following who are normally to be found starring on major cruise ships and holiday centres - The Octaves are flying in from Genoa to be at the festival, and thereafter are off performing on P&O Cruises Ventura and Cunard's Queen Elizabeth - see video clips on them on the festival website. Friday is 50's to 80's Party Night and another festival first with one of the UK's leading Everly Brothers Tribute acts The Foreverly Brothers.
And of course the festival concludes as ever with Last Night of the Proms which was more or less sold out two weeks after the box office opened in February. Tickets for all the evening concerts are set at very reasonable prices and, with exception of Saturdays, include an interval drink from the bar.
But remember that the festival is on all day, and there are many daytime events of a professional standard to enjoy, all of which are free of charge. An Organ Recital on Monday, Baroque Ad Hoc on Tuesday, Jazz with Robbie Rich on Wednesday, a Harp Recital Thursday, Palm Court tea dance with Cornish Cream Teas served on Friday, and the talent of local rock bands with Bands on the Lawn on Saturday.
Waterlooville Music Festival is a community event organised and run entirely by volunteers, do take full advantage of this week long musical extravaganza!