Success at the Portsmouth Music Festival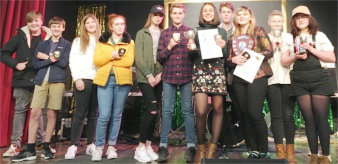 In February Warblington School hosted the Portsmouth Music Festival. It was a fantastic day with students from local schools performing as bands and artists in a wide range of Rock and Pop genres.
We had a tremendous day with students receiving top marks for their Performances.
Isabella Clark was awarded Highly Recommended and the Year 10 GCSE class bands were both awarded Distinctions in their performances. Solo singers Evie Needham, Ehssan Benyahya and Sky Duffy, as well as the school rock band 'Wait for It' were all given the highest award marks of Honours.
Special Trophies the students walked away with were:
Luke Perkins - Best Bassist
10B - Best Ensemble
Ehssan Benyahya - Best Vocalist
Ashleigh Jenkins & Joe Bradwell - Best Duo
Evie Needham - Best Original Song
Millie Knight - Best Instrumentalist
Sky Duffy - The John Gleadall Cup for an Outstanding Performance
Ehssan Benyahya - The Brian Baber Cup for Outstanding Vocals
The winner of the Garratt Shield and therefore the overall winner of the event was Evie Needham with an original song she composed, 'Tea and Sugar'.
Every student who took part did an outstanding job of representing the school and should all be very proud of their achievements.
Evie Needham and the band 'Wait for It' also represented the school by performing at the final festival event at the Kings Theatre on Sunday 2nd Apri.
Miss Blundell, Music
Rock Challenge 2017
On Monday 27th February our Rock Challenge team arrived at school for a 7.30am rehearsal before the event had even begun!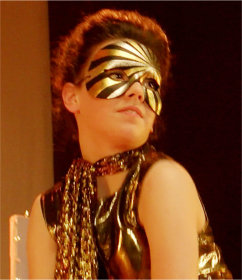 Our team of thirty-three students, including stage crew, lighting designer and hair & make-up - and four members of staff arrived at the Guildhall Portsmouth by 9.00am ready for the day ahead. We had a great day meeting other schools and watching their submitted pieces for the Global Rock Challenge Event 2017.
It was then Warblington's turn to have rehearsals on the stage. Our piece was called Harry Heals the Hive and conveyed to the audience how important the sustainability of bees is and how they contribute to plant life, food and our survival. We researched the idea to ensure we had statistics and information to support our theme. We also 'upcycled' our costumes and set to emphasise the idea of sustainability. Our music choices also ensured that our storyline was clear.
At 6.30pm the doors opened and we performed our piece on the Guildhall stage. It was an electric atmosphere with so much support from our families and friends and the students looked amazing on the stage, with the help of our lighting director!
We came away with six awards:
The Award for Cultural and Educational Achievement, and
Awards of Excellence for Choreography, Entertainment, Performance Skills,
Lighting and Staging.
I couldn't have asked any more of the students in terms of their professionalism, attitude, effort and behaviour. They were outstanding ambassadors to the school and it was a pleasure to share that experience with them.
Mrs Elvy, Physical Education