E-Safety Film with The Spring Art Centre
Twenty-four of our students took part in an E-Safety Day at the Spring Art Centre in Havant where they learned about the risks on websites such as Facebook, for instance accepting people we don't know as friends, and posting personal details or locations online.
The students and pupils from our primary schools also took part in making a film to show different types of bullying (physical, verbal, cyber) and the effects it can have on young people. This film will be shown around other schools to education young people about the dangers of using the internet and the precautions they should take online.
In October some of our students attended the 'premiere' of the film at a very successful event at The Spring. This film has been endorsed by the Havant Police who attended the event, along with the Mayor of Havant.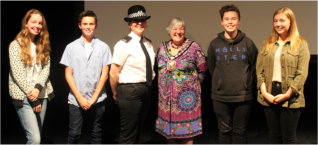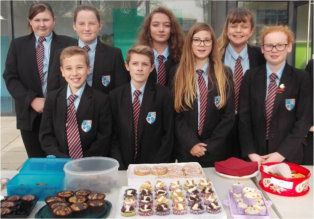 Children in Need Activities
After requests by our Student Voice Team, Warblington School was really excited to raise money for Children in Need 2016.
Year 8 students organised fundraising events throughout the week.
During break times individual tutor groups ran activities such as: How many sweets are in the jar? Name the teddy, The Crossbar Challenge and Beat the Goalie.
"We started planning and advertising the activities near the end of September. The first thing we did was to make posters and stick them up around the school."
Brett Tickner
"During the previous 2 months we compiled a collection of sweets and pennies."
Sophie Bray
"On Monday 8C went around the school selling wristbands for Children in Need. We managed to sell 40 wristbands and raised £40. We all had fun during our activity and are very happy with the money we raised for the charity."
Alice Turner, Hennie Setford and Jessica Phillips
After school on Monday and Thursday some of the students took part in a litter pick. "Nearly all the litter down the cycle path was cleared in 45 minutes and our bags were heavy at the end."
Alice Turner
On Wednesday Tutor Group 8B arranged a cake sale, which was a great success, with students bringing in cakes they had made. The cake sale alone raised nearly £176.00.
Friday was a Non-Uniform Day where staff and students payed a £1.00 donation to Children in Need to wear something yellow.
"The week ended up being very successful with lots of students coming and having a go in the activities. We all enjoyed ourselves and hopefully we raised lots of money for Children in Need."
Brett Tickner
Our students worked very hard during this week and a grand total of £827.56 was raised.