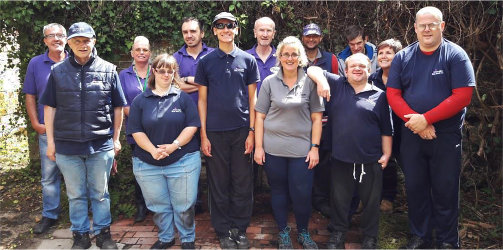 A fantastic not for profit organisation based at Staunton Country Park benefited from a morning's work from 4 willing volunteers from Pfizer, a large pharmaceutical company based in Havant. Pfizer take part in a rolling program of volunteering events organised by Community First, and are extremely supportive of local charities in and around the Havant area.
On Wednesday 12th July, the volunteers from Pfizer travelled to The Right to Work CIC, an organisation based at Staunton Country Park that provides day service opportunities for people with learning disabilities who can and want to work but require support to do so. Having recently moved premises 3 months ago the new building comes with a large walled garden which The Right to Work are keen to turn into an orchard and seating area for the supported volunteers to use and enjoy. The volunteers spent the morning digging, clearing and cutting back the garden helping to get it ready for the new work to commence, helped by a large group of the supported volunteers from The Right to Work.
Andrew a volunteer from Pfizer said "It's wonderful to work alongside the people who are benefiting. We are all contributing to one great cause and it's great to make a difference." Lisa from Pfizer said "It's nice that the people who use this facility are given some independence. The supported volunteers we have worked with this morning are a happy friendly group and it is nice to see that their work gives them a great sense of accomplishment".
Debbie Lyall, the Managing Director of The Right to Work CIC said "We recently moved into new accommodation with a massive garden that we are keen to develop into a community orchard and vegetable growing site, so having the help from volunteers makes a massive difference. The impact that the Pfizer group have made in half a day is significant and will make the creation of our proposed garden easier to achieve and we thank them very much."
Without the support of local businesses many charity and community groups would struggle. For more information about how you can get involved with the Employee Volunteering Scheme contact Rachel Taylor at Rachel.taylor@cfirst.org.uk or telephone 0300 500 8085 ext 9724