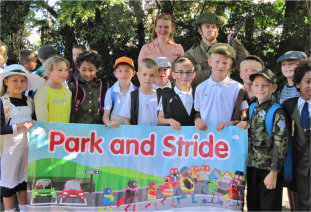 Pupils at Mengham Junior School have been working hard over the past months to encourage even more pupils to travel in a sustainable way to school. Recognition for this work comes through the national STARS scheme, run by Modeshift, which was rolled out to all schools in England at the end of 2014.
Since 2005, the school has managed to reduce the number of regular car users coming to school by 10% from approximately 50% to 40%. To achieve this, the school have been working with a number of travel initiatives and been supported by the School Travel Planning Team at Hampshire County Council (HCC).
Initiatives introduced so far include the Living Streets Walk Once a Week scheme which is being run in combination with several Park and Stride sites which encourages to park a little further from the school, at the Hayling Billy Pub for example, and walk the last 5-10 minutes. Parents are being encouraged to use the back entrance and park further afield to relieve congestion in the car park and on Elm Grove. Safe travel is now on the school curriculum, the school has participated in the HCC Junior Road Safety Officer scheme as well as the Hayling Cycle school fun day and various competitions including designing a poster for a Safe Halloween.
On Tuesday 30th June, as a reward for the school's work towards a sustainable travel plan, HCC worked with school to organise a 'VE Day' themed walk to school from St Mary's Road car park, in a move designed to get the walking children noticed and to motivate others to join in. This was followed by two World War themed theatre shows put together by drama in education specialists 'Histrionics', linking the school's chosen theme with sustainable travel messages.
Headteacher Wendy Bolton and sustainable travel champion Gill Goodwin commented, "At Mengham Junior School, we value our environment and we value walking. We are encouraged by the number of children persuading their parents to leave the car further away from school so they can walk, cycle or scoot the rest of the way."
Hampshire County Council's School Travel Planning Manager, Helen Harris, added: "The school is a deserved winner of this Histrionics event. By taking advantage of all of the initiatives and support available to them, we are delighted that they have earned their bronze Modeshift STARS award and the children are much more aware that exercise is an excellent way to start and end each school day."
The Modeshift STARS (Sustainable Travel Accreditation Scheme) is funded by the Department for Transport's Hampshire Sustainable Transport Towns Fund (HSTT). The objectives of the Government's fund are to reduce congestion at peak times and to reduce carbon and greenhouse gas emissions. These objectives will be met at a local level, through 'My Journey' initiatives to encourage less use of the private car and a more active lifestyle by encouraging walking, cycling, use of public transport or car sharing to travel around, particularly for local journeys.
Hampshire County Council's 'Park and Stride' initiative supported by the My Journey project aims to help schools to identify suitable sites for parents to park so that even if they have to drive their children to school, they can at least walk 5 to 10 minutes to school. This helps to keep traffic away from the school gate, making it safer for everyone and so enabling more active ways of travelling, including cycling. For more information on how Hampshire County Council can support your school towards achieving a sustainable school travel plan, visit: http://www.myjourneyhampshire.com/primary-school-stars