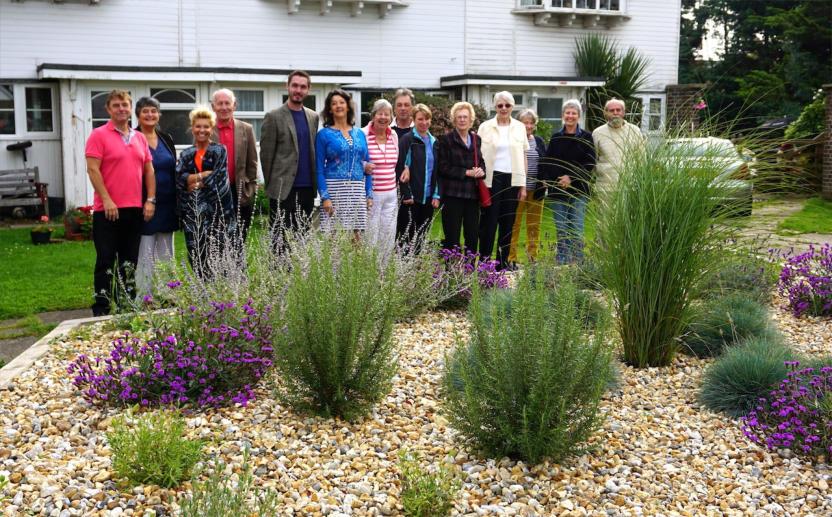 Residents of Towers Garden in Langstone were delighted to take advantage of the LVA October Coffee Morning to informally open the newly restored flowerbed in Towers Garden.
The restoration of the flower garden was a Community Project supported by Hampshire County Council. The flowerbed, originally laid out by the developers of the estate in the 1960's had, over the years, somewhat deteriorated and become unsightly.
The first step was to replace the original brick wall with sleepers, followed by clearing out the old soil, plants and bushes. This work was carried out by Towers Garden residents who then laid out the pebble base with funds raised from a bric- a –brac/ book sale.
The final design was the work of Edward Bowyer of Stansted Garden Centre who created a design aimed to sit with the overall seaside ambience of the setting. To achieve this, the grasses and airy plants that were chosen, mainly blue in colour, are used to create sound and a sense of motion with help from the prevailing off shore wind. It was also considered important that the chosen plants would require minimum maintenance being easier to look after.
This project, specifically designed to restore and enhance an important feature of Towers Garden, has benefited from the continued support of Councillor Ray Bolton, the HCC, the LVA and Stansted Garden Centre. The monitoring and maintenance of the communal garden will be the responsibility of Towers Garden residents.
By:
Michael Olding, Project Coordinator