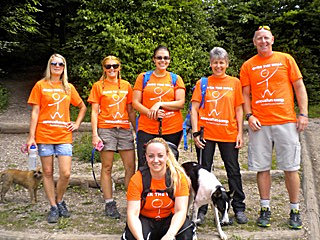 On August 25th, George Turner (aka Topsy) , the owner of Innovations Fitness—a personal training and boot camp company based on the West Sussex/Hampshire border--will lead 12 brave souls in a "Peek A Boo" Challenge in support of Havant children's charity Over The Wall. Over The Wall is the UK branch of the late Academy Award winning actor Paul Newman's SeriousFun Camps and provides therapeutic, fun and FREE camps for children with serious health challenges - as well as camps for siblings and family groups. Sir Kenneth Branagh is their Patron. (Here is a link to their website: http://www.otw.org.uk/)
The group has been training since April and will attempt to climb the highest mountains in Scotland, England, and Wales in three days with the goal of raising money for the charity. Topsy has wanted to work with the charity for a long time and hopes to set up even more fundraisers for them in the future!
If you would like to donate to Over The Wall here is a link to the Innovation Fitness donation page.
https://www.threepeakschallenge.net/188864/operation-peak-a-boo