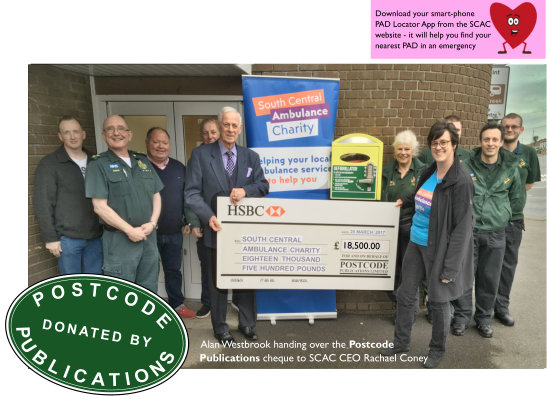 A major Postcode Publications donation to the community of £18,500 to provide eleven new Public Accree Defibrillators (PADs) for distribution thoughout PO7 to PO11 postcodes, with THREE IN EMSWORTH.
The South Central Ambulance Charity (SCAC) will select high priority locations to place the PADs and maintain them, to include the Community Orchard by Redlands Grange.
Everyone in encouraged to familiarise themselves with operation of these life-saving devices.
As detailed in our last edition (see it on line at www.postcodepublications.com) we have donated not ten but eleven new Public Access Defibrillators to the South Central Ambulance Charity (SCAC) for siting at strategic locations chosen by the SCAC throughout the PO7 to PO11 postcode areas that we cover.
Two PADs will be sited in each postcode area, with one further at the community orchard at Redlands Grange in Emsworth.
Don't forget to download the App above that will show where the nearest PAD is to where you are in case of an emergency.
Rachael Coney Chief Executive Officer of the SCAC said; "The South Central Ambulance Charity is very grateful for this amazing donation from Postcode Publications. It will buy eleven lifesaving defibrillators for local communities . These will be machines that anyone can use to save a life - you really don't need any training at all to operate one safely. Thank you to everyone who has helped us get one step nearer to our goal of making sure no-one is ever more than eight minutes away from a defibrillator."