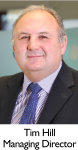 Five star house-builder Barratt Homes in Portsmouth is demonstrating its commitment to becoming the nation's leading sustainable house-builder, by highlighting its drive for an increase in low carbon, energy efficient, homes.
"With 29 percent of all energy use taking place in the home, the focus among construction professionals should be very much on creating sustainable homes that are kind to the environment," said Barratt's managing director Tim Hill.
"It is far more difficult to make an older home more energy-efficient - fuel bills can be up to 55 percent higher for Victorian houses than those on our new developments - so we feel it is our responsibility to embed this idea in the very fabric of the new properties we design.
"Our focus is on helping to reduce the carbon footprint of all our customers. We do this with a combination of innovative and enhanced design - including additions like increased floor insulation and waste water heat recovery systems which capture and re-use heat, and of course energy-efficient boilers.
"We are learning from previous projects, like the award-winning Hanham Hall. This was our first development designed in response to the Government's Carbon Challenge initiative, and we gleaned a great deal about 'fabric first' techniques.
"Work to do to further improve the sustainability of our projects will continue to be part of our remit, but Barratt is leading the way in terms of energy-efficiency and we intend to maintain this momentum over the coming months and years."
Barratt uses a number of methods to increase the energy-efficiency of its new-build homes, including:
External cavity walls - these contain a space for wall insulation. The latest insulation is six times more efficient than 1960s materials.
Double glazing - filled with argon gas, it lets the sun in but reduces heat loss. It is twice as efficient as mid-1990s double glazing.
External doors - tightly fitted and sealed to prevent draughts.
Condensing boilers - these capture heat and energy which would be wasted by older boilers in exhaust gases.
Kitchen appliances - these are A* or A rated. The most energy-efficient on the market.
Demonstrations with customers - making sure those who move in know how to use their heating and electricity efficiently.
"Ultimately, this is all about safeguarding the environment for future generations," added Tim. "When we build homes, we are also helping to create new communities. Many residents will live at our developments for years to come, and we aim to ensure the energy they use - and the way it is stored - has minimum impact on their individual carbon footprints."
For more information about Barratt and energy-efficiency, please visit: barratthomes.co.uk