The annual sponsored dog walk in aid of The Stubbington Ark animal shelter took place on Sunday 15th May.
A very big thank you to all who attended this event. We were delighted to welcome Ms Kim Barton-Smith, the fund raising manager of The Stubbington Ark, who sent the walkers and their four-legged friends on their way. Start and finish was at the HI Light Railway Station with the half way point at the coastguard station.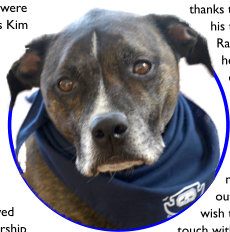 So far we have received just over £400 in sponsorship money; however, a number of pledges are still outstanding.
A special thank you and congratulations to Mrs Katie Jones and her dog Ruby for raising the highest amount of sponsorship. The two of them will be invited to The Stubbington Ark for the prize presentation.
Thank you to Ros Wilson of Stoke Fruit Farm for the generous gift of fresh fruit and to Jenny and Tony from Animal Magic for their donation of dog treats. Further thanks to Mr Bob Haddock and his team at the HI Light Railway Station for their help and support. As every year, we are enormously grateful to our volunteers who worked hard to make this event happen.
There are still a number of pledges outstanding and if you do wish to donate please get in touch with Sandra on 02392 461 876 or Barbara on 02392 358 158.
A final thank you on behalf of the resident animals of The Stubbington Ark. Your support is much valued and your generosity makes it possible to provide them with a home, food, protection and the care they so richly deserve.
By
Margaret Turner, Hayling Island RSPCA Support Group