Two out of our three clock faces have deteriorated to the point where their details cannot be read - even the hands of the clock are difficult to pick out. The third (North) face was more recently refurbished, but even that looks 'tired'. Our aim is to refurbish all three clock faces so that they can be read easily, all over the town, and considerably improve the heritage offer of the town centre.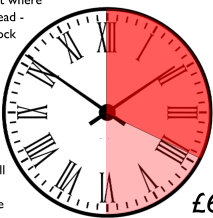 Residents and visitors will benefit from an improved recreational and retail experience. The church clock faces, once refurbished, will help to underpin the sense of Havant moving forward as a high quality shopping and leisure destination. Coupled with the fact that the Church itself is always open during day-light hours for visitors, the Church and its clocks will rightly stand as an historic monument of which the whole community can be proud.
Postcode Publications will match-fund all donations and top-up any shortfall to pay the £6,000 needed to refurbish the three clock faces.
The work will extend the life of the clock faces for at least twenty years.
All contributions will be welcomed.
Please pledge anything you can by email to us at editor@postcodepublications.com
Pledges will be passed to St Faiths who will then contact donors for collection direct.
£6,000 Target