Members have enjoyed eight brilliant years with our current MD.
We are an a cappella chorus, with 23 lady members, having a good range of songs in four part harmony. We take part in competitions as well as performing in sing-outs, concerts and community events.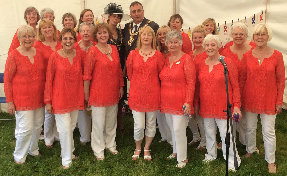 We rehearse every Tuesday evening from 7-30 -10pm in Havant Hampshire.
If you are interested, would like to know more and meet the chorus, please contact the chairman Jean Lambert j.f.lambert@ntlworld.com
Please include some details of your musical background, directing experience and what you feel you could bring to the chorus.
Reasonable expenses will be met.
By
Sandra Strawn of the South Hants Ladies Barbershop Club sandiestrawn@aim.com