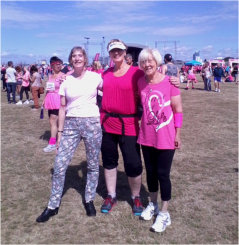 Along with hundreds of others, men, women, and children, we enjoyed the fund raising event on Saturday 11th of July, at the Mountbatten Sports Centre, Alexandra Rd, Ports on behalf of Cancer Research UK. Our part was to welcome the runners / walkers as they entered the marquee for lunch, having completed their circuits of the course. This was a pleasure for us as we can sing for England, so to speak, and we greeted them with one of our favourite fun warm-up songs "Gee it's Good To See Ya". The gentle warm-up songs are not only fun, they prepare the vocal chords and the lungs for singing. Breathing is good! This was followed by "Amazing Grace" which was very apt as these survivors are truly amazing. We think our choice of songs was very fitting, including, "Can You Feel The Love" from the Lion King, and Leanard Coen's Hallelujah. It was a lovely part of the day. Our Deputy Musical Director was Gillian Rose-Smith, who has a wonderful talent for conducting, while avoiding people, it was so busy. All in all it was a pleasure to support this cause, as we do every year.
Sunday, 19th of July, saw three of our girls, me included, Sandra Strawn, Lucy Van De Ven, and Jackie Stanley, taking part in the 5 k Race For Life at Southsea, also raising money for Cancer Research UK. We had a fantastic brisk walk around the course completing it in 55 minutes. Everything was perfect, sunshine, breeze, good company, and everyone Hi- Fived us which was great. Time well spent.
For further information about our chorus please contact, Joy, Events, on 023 9264 1997 or Sandra, PRO, on 02392-451220. Thank you very much, Sandra Strawn, PRO for Spirit-of-The-South.