On a beautiful sunny Saturday 18th June'16 Spinnaker Chorus, Portsmouth took part in the Bournemouth Music Competitions Festival at the Pavilion Theatre. We have been preparing for this competition since early May, after coming third place at the annual Sweet Adeline's International, Region 31, ladies barbershop convention in Newcastle.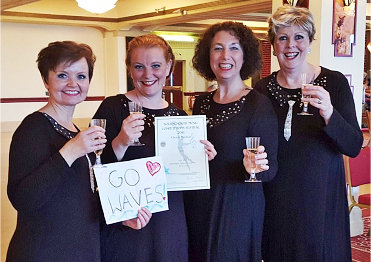 At last year's festival we entered in two classes, 'Songs from the shows' and 'Barbershop choir' and came first and second place respectively. This year, under the direction of our new MD John Palmer, we were more adventurous, entering four classes. Jenny Savory was guest director for two of our songs also.
Our first class was 'Show Choir with Movement' in which we performed two very lively numbers 'The moment I saw your eyes' and 'It's Raining Men'. We won this class and received The Seer Cup.
After lunch came the 'Choral Sacred Song', not a genre of music which you would typically associate with a barbershop choir however, we entered with 'You Raise me Up' followed by 'I will follow him'. There were a number of fabulous choirs in this class who sang some hauntingly beautiful pieces and the well deserved winners were The New Forest Chamber Choir.
Next came the 'Female Voice Choir' class, a new category introduced this year. With a quick costume change we donned our 'black and bling' to perform 'Come in from the rain' and 'Defying Gravity' one of our favourites from the show 'Wicked'.
With ten choirs competing we were overjoyed when we were announced as the first time winners of this new award.
On to the 'Barbershop Chorus' class, nine choirs competing for the Roger Mills Trophy. After all entrants had performed their sets, once again to our delight, Spinnaker was announced as first place winner. Waves quartet, made up of four members of Spinnaker Chorus, came joint fourth place at their debut here last year. Competing again in this group which comprised an impressive thirteen quartets and one octet, Waves, who are Tracy Daniel, Liz Waddon, Kate Middleton and Hazel Smith, sang 'If I were the only girl' and the fun, upbeat 'Feeling Groovy'. After a nervous wait whilst all competitors critique was read out the girls were thrilled to find out they had improved on their debut result, this time being awarded joint third place!
To finish a perfect day in sunny Bournemouth Spinnaker Chorus sang in the final class, 'Bournemouth Choir of the Year'. The winners of the previous classes throughout the day were invited to compete for a chance to receive the 'Margaret Miller Trophy' and £50 prize money. We didn't win this one but we were delighted that the trophy went to the superb 'Impromptu' from Surrey.
Spinnaker Chorus is a fun group of talented ladies with a passion for barbershop singing.