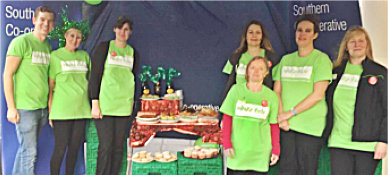 The Southern Co-operative's Portsmouth Shoppers Raise Over £1,200 for Disabled Children's Charity. Portsmouth shoppers joined in with The Southern Co-operative's bumper Christmas fundraiser by helping their local stores to raise £1,222.12 for disabled children's charity, Whizz-Kidz.
The Southern Co-operative stores across Portsmouth hosted a variety of festive activities in the run up to Christmas for customers to get involved with, including Christmas hamper raffles, fancy dress days, cake sales and more.
The money raised will help sponsor Garry Farne, Retail Business Manager for The Southern Co-operative store in Emsworth, who is running the London Marathon for Whizz-Kidz in April 2016.
Garry said: "I am absolutely delighted with the amount of money The Southern Co-operative shoppers have managed to raise over the Christmas fundraising weekend – just think how much we could raise by the time April comes around! The support of our customers has really spurred me on to begin my training and to achieve my lifetime goal of running the London Marathon."
In addition to the Christmas fund-raising weekend, Garry and The Southern Co-operative's Portsmouth stores intend to host a variety of other events to help raise further sponsorship funds for Whizz-Kidz. The Southern Co-operative's Portsmouth Shoppers Raise Over £1,200 for Disabled Children's Charity. Portsmouth shoppers joined in with