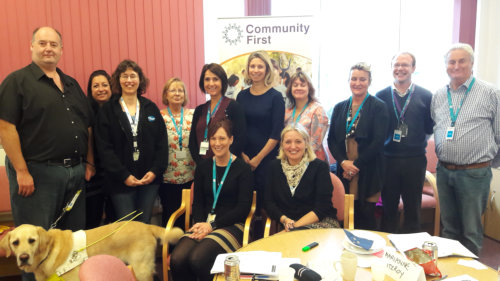 A range of community groups and public sector organisations from across Hampshire took part in a morning's training session with Pfizer, a large global pharmaceutical company based in New Lane, Havant.
The session was organised by Community First as part of the Employee Volunteering Skill Share Scheme and was an opportunity for community group managers to benefit from Pfizer's extensive knowledge, learning about how to create an effective working environment.
Pfizer's fascinating workshop provoked interesting discussion around creating effective mission statements, metrics and measures, getting the best out of your staff meetings, among other interesting topics, giving managers many ideas that they could take back and implement into their own organisations.
One of the attendees McKay from youth charity Off the Record in Havant said "today was inspiring, informative and very engaging. Pfizer are always a great support of local services and a valued member of the community. It's so helpful that they can share their expertise with small community groups that don't always have access to these skills".
Senior Supply Chain Manager, Ian Morris at Pfizer says "for us, it's been lovely to share some perspective from the business world with local charities. It is clear that with funding harder to come by, charities are having to adapt and become more business like, so it's great for us to be able to help."
Groups attending the workshop included FitzRoy, One Community, Park Community School, Off The Record and Community First.
If you have skills and expertise you can share with the voluntary sector contact RachelTaylor, Rachel.taylor@cfheh.org.uk or telephone 0300 500 8085 ext 9724.