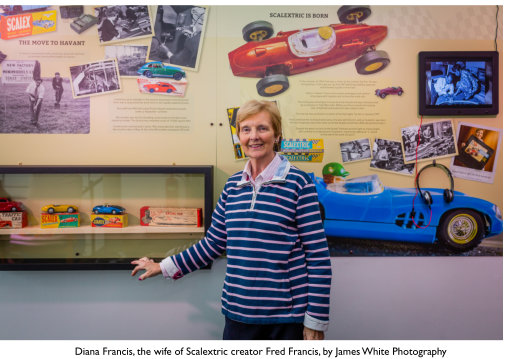 The Spring premièred a film recently celebrating history of the iconic toy Scalextric filmed with the help of local students from Trosnant School and local Havant people who worked in Fred Francis' factory.
The famous racing game was manufactured in Havant for more than a decade after being invented by toy maker Fred Francis, who moved his Minimodels factory from Mill Hill to Hampshire in 1954. Two years later, he experimented with electrifying his tinplate toy cars and the first Scalextric sets arrived in shops in 1957.
Manufactured at Minimodels in New Lane, the toy was an instant success and its popularity led to the development of a much larger Minimodels factory in Fulflood Road, Leigh Park. Minimodels was a major employer from 1961 until the factory's closure in 1970, at which time it employed 1,200 people.
Working with local people and enthusiasts The Spring has researched and collected stories for the film and book. This work has been supported by a grant from the Heritage Lottery Fund. We held an exciting open day in October which included an 8 track Scalextric, ladies from the factory talking about their experiences and a good day was had by all 500 participants.
Trustee Steve Murray said: "As we mark the 60th anniversary of the brand appearing in shops, we are delighted to be able to record Havant's key role in its international success and hope that by celebrating the past, we can promote civic pride in the present".
The workers' stories feature in a book and the documentary film.