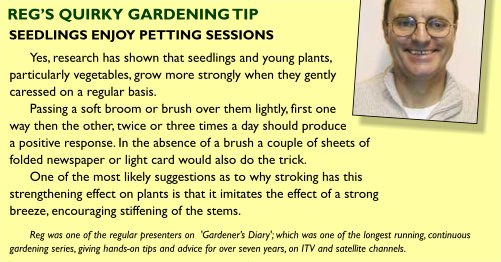 EARLY MAY
Keep all newly planted items well-watered. This includes ones planted last autumn
Sow seeds of herbaceous plants
Sow or turf new lawns and keep mowing established ones – but not too low
Treat difficult lawn weeds e.g. clovers, black medic with Scotts Weedol Lawn Weedkiller
Plant out cabbage, cauliflower and other brassicas but take precautions against root fly
Don't forget your houseplants feed and water them regularly
MID MAY
Sow suitable varieties of pansies to flower from autumn throughout the winter
Sow biennials for flowering next spring onwards e.g. wallflowers, mysotis, sweet williams, foxgloves and honesty
Plant out chrysanthemums for flowering in borders or for cutting
Plant out summer bedding plants when frost risk is minimal
Plant out sweet corn in blocks, rather than a long row, as they are wind pollinated
Take cuttings from dahlias and chrysanthemums for flowering later in summer
Plant tomatoes, peppers, aubergines, cucumbers etc. in a cold greenhouse
Make up summer flowering hanging baskets and containers. Treat them with Bug Clear Ultra Vine Weevil Killer as a precautionary measure.
LATE MAY
Prune clematis montana straight after flowering, if they are getting out of bounds
Sow some half-hardy annuals for use a winter pot plants e.g. calceolarias, schizanthus and cinnerarias
Beware of houseplants getting scorched on sunny windowsills
Listen to the weather forecast in case of any nasty late frosts.
EARLY JUNE
Mulches help to conserve water but the soil must be moist before they are applied
Sow quick growing hardy annuals e.g. clarkia, Virginia stocks for late colour in dull spot
When watering concentrate on climbers on walls, container and basket plants, newly planted items, dahlias, sweet peas, leafy veg. crops, celery and fruit bushes
Dig up bare centred alpine plants, divide them re-planting the young pieces from around the edge
June is one of the worst months for pest and disease attacks, so check plants regularly
MID JUNE
Many climbing plants can be increased by layering at this time of year
Mow the lawn to leave the grass 2.5cm (1in) tall. Makes grass more drought resistant
Treat established lawns with a lawn weed killer but not if there is a drought
Dead head rhododendrons after flowering to encourage new growth
Watch out for cabbage white butterflies around your brassica plants
Sow salad crops regularly, in small amounts, sowing the second row as the first emerges
Tomatoes can be planted outdoors. Select a sheltered site and support the plants
Lettuce will not germinate in hot weather. Sowing in moist drills in late evening helps
Shade the greenhouse, ventilate it well and spray water over the floor to raise humidity
LATE JUNE
Lift and divide flag iris after flowering. Re-plant young growths, keeping rhizomes above soil level
Deadhead roses regularly to prolong flowering. Remove any "suckers" as soon as they appear
Feed tomato plants regularly from when first fruits begin to form, using tomato food
Take out one third of the older branches on deciduous shrubs, like Philadelphus, Weigela and Deutzia after flowering
If pollen beetles infest your cut sweet peas, put them in water in a shed for a while. The Beetles will fly into the window, attracted by the light.