Sophie Christiansen was guest speaker at an exclusive 100 club members lunch at Quay FIFTEEN Restaurant, Shamrock Quay Marina, Southampton.
Sophie who has cerebral palsy, is a patron of The Rainbow Centre charity in Fareham and has just returned triumphant from the Rio Paralympics with three gold medals in dressage.
The Rainbow 100 Club is an exclusive members club organised by the charity to help it build a sustainable income.
The centre is unique in the region providing Conductive Education (CE) a highly specialised form of learning to local children and adults affected by Cerebral Palsy, strokes, Parkinson's, Muliple Sclerosis and head injuries – helping them to lead as independent lives as possible.
Lara Bull, CEO at the Rainbow Centre commented: "It is important for the Centre to build a sustainable income stream to help support the five key disabilities we work with not just today but leading into the future.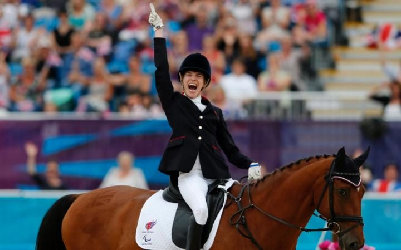 "Looking forward our hope is to expand our services to incorporate outreach into secondary schools and the community as well as Life Skills and Preparation for Independent Living for young adults but we must ensure financial stability first and building our 100 Club is key to that dream.
"We would like 250 companies from across the region to spare a regular monthly sum of £100 to support their local society's most vulnerable children and adults. The difference this will make to us is phenomenal.
"There are several benefits to joining 'The Rainbow 100 Club'. You become part of an exclusive business networking club that meets three times a year. Each lunch has a guest speaker and we are delighted to have Mark Hoban, ex Treasury Cabinet Minister, already lined up for our March meeting.
"There are plenty of other events throughout the year where members are able to invite guests along such as golf days, clay shoots and horse racing. This provides a relaxed platform to build relationships with other local businesses and entertain clients whilst at the same time achieve their corporate responsibility of giving something back to the community they live and work in."
If you would like to know how you can get involved in the Rainbow 100 Club and be on the guest list for the next exclusive members event contact the Rainbow Centre on 01329 289500 or email: enquiries@rainbowcentre.org or visit www.rainbowcentre.org