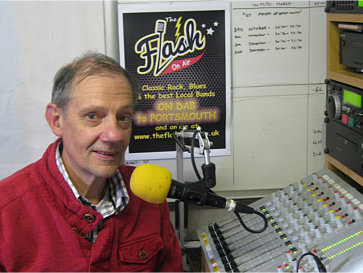 Back in the May/June 2015 edition of Postcode we brought readers attention to a new classic rock and blues radio station, The Flash which was broadcasting locally on 87.9 Mhz FM for one week only. The test broadcast attracted a lot of attention and the station, which is based in offices near The Curlew PH, Petersfield Road, Havant is now available on DAB in the Greater Portsmouth area. You may need to retune your DAB radio and then select "Flash" on the station menu. The Flash which is also available online at: www.theflashonair.co.uk
The Flash is currently looking to recruit more volunteer presenters. Station founder Martin Kirby stated, "You don't need any experience in radio or even a certain type of voice to join the Flash team. All we require is a love of classic rock or blues and an interest in the live music scene in and around Portsmouth". The station currently has over 20 presenters from all walks of life including Postcode's own beer writer David Harris.
He told Postcode, "I have always been interested in rock music but never saw myself as a presenter. When Martin asked me if I would be interested I decided to give it a try as was surprised how straightforward it was to do a show. Martin does all the engineering and cueing up of records, all I have to do is talk about between records".
If you are interested in classic rock and blues from the 1960's -1990's and can spare an hour or two each week then Martin would be pleased to hear from you. Contact details are: Email: rock@flash1512.co.uk