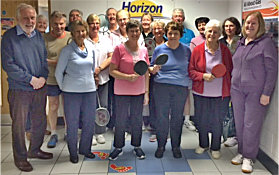 Horizon Leisure Centres, the Charity that operates both Havant and Waterlooville Leisure Centres, has announced that admission charges to both Centres are to be frozen for 2016.
Traditionally Horizon's charges are adjusted in January each year but following a review by their Board of Trustees the decision was made not to increase general pay-as-you-go admission charges as part of their charitable objectives to get more people using the Leisure Centres.
The Charity's Chief Executive, Howard Broad said "The purpose of the Charity is to provide high quality leisure facilities at affordable prices for the communities of Havant and Waterlooville and beyond.
The decision to freeze prices will be good news for our customers, will help increase usage of the Centres and will encourage more people in the community, to become more active, more often".
As a charity Horizon Leisure Centres' provides a range of targeted programmes to meet the community needs these include daily teen (aged 10 – 15) gym sessions. 'MEND' children's exercise and anti-obesity clinics, exercise referral schemes and cancer rehabilitation through exercise.
With parent and baby swimming lessons, Fun Club for 50+ and over 70 other activities Horizon provides something for everyone. Fun Club customers were ecstatic to hear the news and hope that it will encourage more people to join.
Doug, 87, Fun Club Customer at Horizon Leisure Centre said 'I am so pleased to hear the prices are not increasing in 2016. I am 87 and still swim at the Leisure Centre most mornings.
It is wonderful to come to Fun Club every week and play badminton, table tennis and socialise while still keeping fit in our old age.'
Horizon are continuing their commitment in 2016 to provide fully inclusive facilities in partner with supporting people with additional needs from supported swimming to weekly sessions in their Indoor Play Centres as well as badminton lessons. Over the past 18-months, Horizon has invested heavily in improving the Leisure Centres by opening two massive new gyms, a new children's play centre ('World of Play' at Waterlooville), two new dance studios, a café and improved car parking now offering a total of over 20 facilities.
For more information about the activities available at Havant and Waterlooville Leisure Centres visit www.horizonlc.com