CALL 105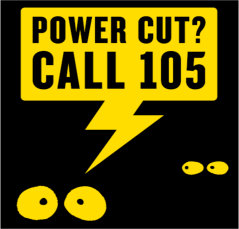 A lot of people don't know who to call to report or get updates about power cuts, with many wrongly calling the energy supply companies they pay their bills to.
105 aims to solve this problem, providing people with an easy-to-remember number that will put them straight through to their local electricity network operator.
This is particularly important when there is bad weather as severe storms can cause major disruption to electricity supply into homes and businesses.
105 is just one of the ways you can contact your network operator. They can still be contacted directly by phone on their 0800 number or via their website – and most can be reached through social media too.
105 is jointly funded by electricity network operators.
Electricity network operators are the companies that manage and maintain the underground cables, overhead lines and substations that bring electricity into homes and businesses.
There are several electricity network operators. The larger ones each cover a different region within Great Britain.
Wherever you live, 105 will put you through to the right network operator.
September 2016 - The number will be launched through a PR story and supporting content on social media.
The 105 website will be live and we will be working with stakeholders to raise awareness of 105 through their channels.
An advertising campaign will go live across radio, digital and outdoors.