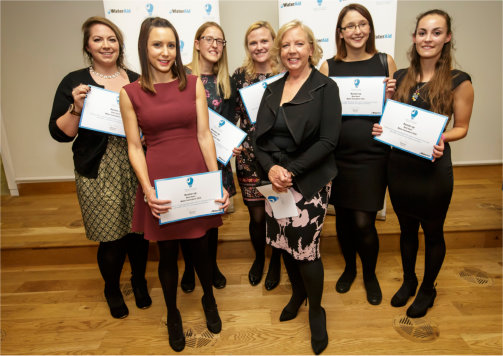 This global challenge saw teams from across the UK, America and Australia choose either a water, sanitation or hygiene-focused problem to overcome using innovative thinking, and fresh creative skills. The aims of the 'Water Innovators' competition is to develop professional and core business skills, competing to solve real problems from the communities where WaterAid operates. In addition, all teams were tasked with raising a minimum of £3,000 each.
A team from Portsmouth Water, made up of staff from within the Customer Services and Water Quality departments took up the challenge and were tasked with crafting solutions for people in Cambodia. Still recovering from decades of conflict, Cambodia is one of South East Asia's poorest countries and access to water, sanitation and hygiene is very low. WaterAid has highlighted real situations for the teams to focus on, to help provide access to these basic necessities. The team of Tanya Bromley, Laura Cooper, Lianne Riggs, Rachel Dixon, Emma Camm and Jess Bethell called themselves 'The Kingfishers.'
The Kingfishers have not only took on this challenge to provide some of the poorest Cambodian communities with access to clean water, sanitation and hygiene for a brighter future, but managed to finish 'runner up' in the team category and were presented with the award by Deborah Meaden of Dragons Den fame at an awards ceremony in London.
To raise the target £3,000 for WaterAid, the Kingfishers carried out a summer of fundraising, involving sponsored mountain walks, football sweepstakes building up to a community festival at Staunton Country Park. The final Kingfishers event was a Cambodian Lunch put on for all Portsmouth Water employees, giving them an opportunity to taste food from a different culture, and immerse themselves in the world of Cambodia. When all the counting was complete, it was clear they surpassed their target £3,000, raising an amazing £6,000 for the campaign!
Emma Camm, the Chair of the Kingfishers said after receiving he award "As a small Water company, and a small team, the Kingfishers are immensely proud of the success of the campaign, showing that by working together as a company and a community, anything is achievable. The fact we have finished runner up is the icing on the cake. Even if we if we won nothing we knew that by raising £6,000 we have made a real difference to people lives."
For more information on WaterAid visit www.wateraid.org.uk Have you tried our interactive water calculator to see if you and your family are waterwise? The calculator can be found on our website at www.portsmouthwater.co.uk