Westbourne Astronaut Major Tim Peake made history when he became the first Briton to serve on the International Space Station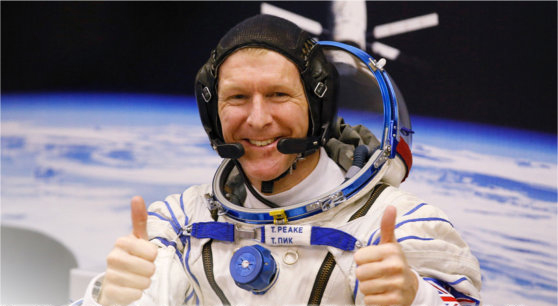 By Lord David Willetts who was deeply involved with Tim Peak becoming an astronaut
Tim Peake's mission to the International Space Station has been exactly the fillip we all needed during the winter months. Helen Sharman went up on a brief independently funded mission twenty years ago. But now at last Britain has got an astronaut on the International Space Station after about twenty other countries: But better late than never. And we have in Tim Peake a man in whom we can fell confidence and pride. He is unflappable, supremely competent and smart. He is a fantastic ambassador for Britain. And of course – he was brought up in Westbourne PO10, and was educated in Chichester.
My involvement in his mission began in 2012. The European Space Agency is a European inter-governmental organisation which enables the different states of Europe to work together on space matters. And that includes it being one of the partners in the International Space Station. Individual member states in ESA are free to decide which of its programmes they want to participate in. Ever since the 1980s successive Governments had kept us out of the programme for the International Space Station. Despite this Tim had applied for a place on the ESA astronaut training scheme. He showed extraordinary strength of character in going through all the training when he must have feared that his actual chances of a flight were very slim.
The European Space Agency has a ministerial meeting every couple of years when Governments decide what its priorities should be and what they want to fund. I was the British representative at the meeting in 2012 and decided to change our policy and make a modest financial contribution to the ISS programme. That meant Tim got his flight.
It has been marvellous to observe what he has made of this opportunity. Astronauts are indeed very special people. For a start they need extraordinary physical resilience to withstand the pressures their body is under. They need mental resilience as well so they can withstand the stresses and strains of the training, not to mention living for six months out in the Space Station. That is if you like the test pilot part of it. But there is far more. They have to run scientific experiments, including sometimes on their own bodies as they track how they are responding to weightlessness. They are also engineers who can do repairs to the Space Station. Tim has already done a spacewalk to sort out a problem on the Space Station And they need to be great communicators too as there is so much media interest in what they do – and an opportunity to interest kids in science.
So back in December I was in Baikonur for the launch, together with many of Tim's family and friends who had come from the round here to support him. It was a moment of great excitement. The Americans from NASA, the Russians who operate Soyuz and the base were all so pleased that at last Britain was joining them. And they all had enormous respect for Tim and the long journey he and his country had taken to get there.
Lord David Willetts was Member of Parliament for Havant and Minister for Science from 2010 to 2014. He is now a member of the House of Lords.