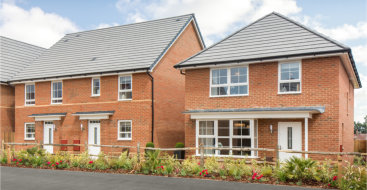 The UK has more self employed workers than ever - and the number wishing to buy new-build homes is also on the increase, according to leading house-builder Barratt Homes.
Latest figures from the ONS reveal there are now more than 4.8 million self-employed people in the UK and financial experts from The New Homes Group say that it is fact easier to secure a mortgage than many self-employed people think.
Adam Champion from the New Homes Group, which works with Barratt Homes, says that there is currently plenty of opportunity for those with non standard earnings to buy their own property.
"In recent years, lenders have been more than a little sceptical about taking the plunge by offering mortgages to those with finances that might fluctuate from year to year - or even month to month,'' said Adam.
"However there are plenty of mortgage lenders offering finance and as long as buyers can prove their earnings they should have access to the same range of mortgages as any other buyer."
Adam said that online tax returns have made it easier for self employed people to provide their SA302 forms which provide the required evidence of earnings for the last three years. "Every application is considered individually on its own merits, and many lenders view new-build homes as a safer bet because of extra safeguards on offer,'' added Adam.
Barratt's top tips for self employed buyers:
What kind of employee are you?
Mortgage lenders may classify you as self-employed if you own more than around 20 to 25 percent of a business - even if you consider yourself to be employed.