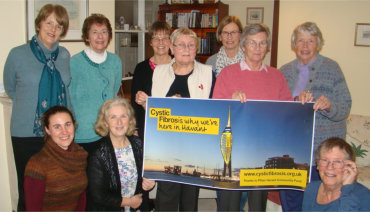 Local supporters of the Cystic Fibrosis Trust, are making plans for national CF Week, in June, to raise awareness of this inherited condition, and to help fight 'for a life unlimited' for today's and tomorrow's children and young people. Part of this week will be 'Wear Yellow Day'on 23 June.
The 'Wear Yellow Day' is in its infancy, as 2017 will be only the 4th year it has taken place. For the past two years the Emirates Spinnaker Tower has been lit yellow , to mark the occasion. The local group is delighted with the first of two banners, made possible by the generosity of the Pfizer Havant Community Fund, to help spread the word, throughout the borough.
Cystic Fibrosis is a 'hidden' condition, and people may not even realise that they know a person /family who live with it. Cystic Fibrosis is rare. There are over 10,000 people living with CF in the UK, and nearly 300 in Hampshire. Nowadays children are diagnosed early, as the result of a routine heel test offered to all new born babies. A strict medical regime begins at once, and has to be undertaken every day for life. Imagine physiotherapy at least twice a day, oral, and nebulised medications, all of which thankfully prolong life. But never a day off! Many, but sadly not all, children survive childhood now, and adults are becoming middle aged, but often facing the need for transplant. Every person is different, and new treatments are being developed all the time.
The CF Trust was established in 1964, and the Portsmouth Branch, shortly after. Some of the present group, who met in the 80s, get together regularly, mostly in the Hayling and Fareham/Gosport area. We used to love meeting our friends in the St Faith's charity shop in the Pallant, Havant, which we ran for one week in February, nineteen years running. Hayling residents also have always been incredibly kind.
The Trust, a national charity, raises awareness, funds for research and other vital support/information services available to all CF families. Fifty years is a long time to fight for a cure, but many exciting advances have been made along the way. Despite real optimism, as we in the local group grow older, we really do need help to carry on our work. So please, please wear something yellow on 23 June, ask others, young and old, to do the same, have some fun, find out more about Cystic Fibrosis from www.cysticfibrosis.org.uk, and catch up on local activities on www.facebook.com/CFPortsmouth.
Thank you.