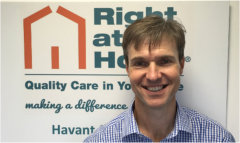 A new business has announced plans to create new jobs in the Havant area.
Right at Home Havant based at Langstone Technology Park will provide top quality care services for seniors and adults living with disabilities.
Owner and Managing Director Duncan Cameron is now beginning the process of building a team of compassionate, committed, and highly-trained carers to deliver great care and companionship services within people's homes.
Duncan said: "I decided to open Right at Home Havant after I realised the huge growing need for reliable, top quality in-home care that promotes people's independence and is delivered in the 'right way' - with dignity, respect and a holistic approach to someone's well-being.
"This approach is entrenched in our ethos of delivering highly personalised care, with a minimum of one-hour visits and with a continuity of regular carers who build lasting relationships with their clients and their families, offering companionship and emotional support as well as physical and practical assistance."
Overseeing the local recruitment drive will be Right at Home Havant's Registered Manager Anna Paterson, who brings a wealth of care experience to the role.
Anna said: "We're looking for people with a dedicated and reliable approach, who take pride in helping others – they do not necessarily need to have previous experience in the care sector, as a comprehensive training package is offered to support the professional development of our carers.
"Our care services range from simple companionship to housekeeping support and personal care and we are looking for both full time and part time additions to the team."
The private care at home market is growing fast, due to the ageing population, people's desire to carry on living in their own homes as long as possible and the growing pressure on services delivered by Social Services.