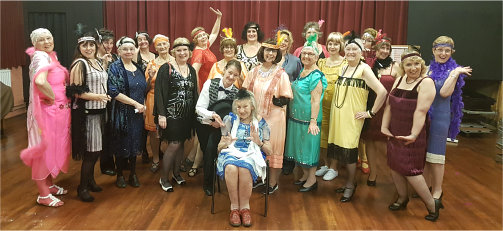 The Havant Pitchpipers certainly know how to party with style.
Dressed for a roaring 20's themed evening, the ladies surprised the longest member of the chorus, Gladys for her 90th Birthday.
Gladys, who joined the Barbershop chorus 34 years ago, was surprised and over whelmed by the ladies who made it an unforgettable and enjoyable evening for her. The costumes were used by The Pitchpipers in the 1987 convention and Marilyn Penketh was pleased to bring them out of storage for this special occasion.
Gladys, who was born in Essex, moved to Havant in 1983 when her husband retired and took up a teaching job at Highbury College. Glady's said, 'The best thing that ever happened to me was having seen an advertisement saying 'Do you like Singing?''. 'Being a member of The Pitchpipers has changed my life. I couldn't imagine a world without music, and I pray I never go deaf!'.
During the evening Gladys directed the chorus, with the aid of Marilyn Penketh, MD of the Pitchpipers, to a rendition of 'Happy Birthday'. Marilyn said, 'Gladys brings a wealth of knowledge because she's been with the chorus for so long. She calls herself the granny of the group, but she's still singing and she sings very well'.
There was a further surprise party for Gladys later in the week when The Pitchpipers joined her family for an even bigger knees up and sung numbers from the likes of Al Jolsen and Laurel and Hardy.