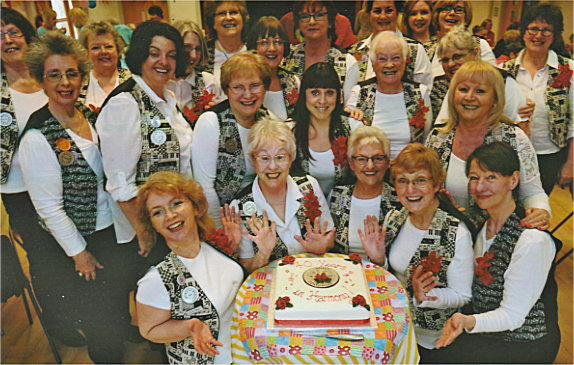 The Pitchpipers were founded in 1976 with a very small group of ladies meeting in the home of their founder and Musical Director, Marilyn Penketh.
The ladies chorus has supported both local and national charities since that time and has appeared in concerts at home and abroad. They have a sister chorus in Sonsbeck, Germany and also in Eindhoven, Holland with whom they meet up from time to time.
They constantly strive to improve their vocal standard which has been achieved by vocal coaching from both home and abroad and competing in the Ladies Association of British Barbershop national contests where they are judged in Music, Singing and Presentation.
When in contest, they have always believed in delivering a musical package which is themed with costumes rather than just singing 2 unrelated songs ~ as you will see from the photographs. Their themes have been American footballers, pirates, Elvis, witches, sailors, 1920s, 1950s, ghouls & skeletons plus many other characters along the way!
Rehearsals are open and we are always delighted to give a warm welcome to any prospective members who would like to come along and listen to what we do. We are ordinary women singing extraordinary music, a cappella style and our age range is 18 – 90 years. There is no requirement for any of our members to read music.
For the last 11 years, In the run-up to Christmas we have invited able singers to come and join us for 6 weeks rehearsals before performing as The Portsmouth Ladies Christmas Choir for the Rowans Hospice at Cascades, Portsmouth (10th December this year) and other venues across the Portsmouth area.
The Pitchpipers meet on Tuesday evenings at St Philips Church Hall, Hawthorn Crescent, Cosham from 7.30 – 10.00pm. You can also find more details at www.pitchpipers.co.uk and on our Facebook page.