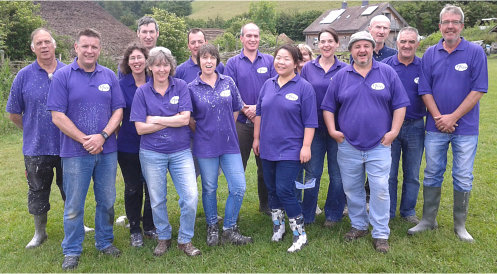 Fifteen willing volunteers from Pfizer, a pharmaceutical multi-national based in New Lane, Havant, descended on Butser Ancient Farm to volunteer for a day. The enthusiastic team were tasked with lime washing the walls of two of the buildings on the site.
Butser Ancient Farm is a unique archaeological experimental site with ongoing constructions of ancient buildings based on real sites. The Farm is a not for profit organisation and relies heavily on the support and commitment of volunteers. Maureen Page, Director at Butser Ancient Farm says "we would like to thank Pfizer's volunteers who have offered invaluable help to our site and without their help we wouldn't be able to undertake such projects. The volunteers have been lime washing the walls of an Iron Age Roundhouse and also a Saxon House. We have evidence from the archaeology that walls would have been treated in this way to help to maintain them and also helps to keep the houses light inside. We understand Pfizer are keen to support educational projects and Butser Ancient Farm fits nicely with their priorities".
This event with Pfizer is part of their on-going community volunteering programme organised in conjunction with Community First. Pfizer carry out monthly fulfilling challenges ranging from conservation, gardening and befriending to helping at the local food bank. Mike Reavley, Director of Packaging & Operations Management says "this has been a fantastic opportunity to be able to spend the day at Butser Ancient Farm and proved very popular amongst our colleagues. One of Pfizer's key community priorities is supporting educational projects which make a difference to children's lives. The work that Butser Ancient Farm does is so important in teaching our children about what life was like hundreds of years ago".
For more information about how you can get involved in the Employee Volunteering Scheme, email janet.duggan@cfheh.org.uk or telephone 0300 500 8085 ext 9722. If you would like to volunteer have a look at our new website: www.volunteerwessex.org