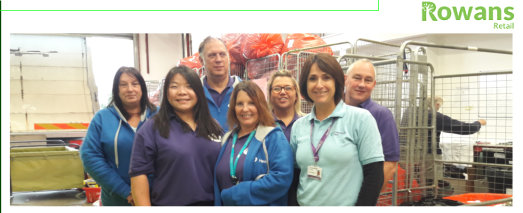 A group of employees from Pfizer returned to the Rowans Hospice sorting depot based in Farlington to support the charity. The sorting depot processes clothes and other items the public donate ready to be sold in the twenty-two shops across Portsmouth & SE Hampshire.
Scalia Lawrence, Production Team Leader at Pfizer says "we were very excited to be invited back to the Rowans processing centre and help this local charity. At some point all of us have known someone that has been helped by the Rowans support network and this is our way of giving back to this extremely worthwhile charity. As a local resident I would urge you to get involved and support your local charity in whatever way you can".
Adrianne Pike, Retail Operations Manager at Rowans Retail says "At our Farlington warehouse we process a range of clothes and bric-a-brac that the public have donated which is then distributed to our shops to sell. In order for us to function we have a number of volunteers and we are currently looking to increase this team. If you have a spare few hours a week and would like to be part of our friendly team we would like to hear from you. We also encourage businesses to volunteer with us – it's a great team building day whilst supporting your local charity. I would like to take this opportunity to thank Pfizer for supporting us today as part of their volunteering programme".
If you would like to volunteer as an individual call Rowans Hospice on 023 9223 8545 or log on to www.volunteerwessex.org to register your interest. If you are a business and would like to get involved with the Employee Volunteering Scheme email Rachel Taylor at rachel.taylor@cfheh.org.uk