This term has seen great cause to celebrate Park Community School, its teachers, practices and of course students!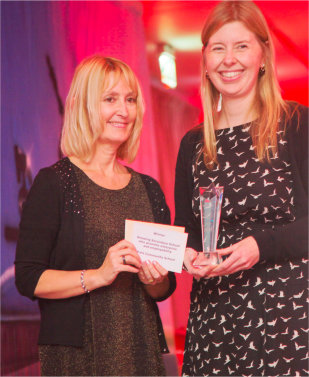 EBP South - Amazing People Awards
Park Community School were nominated for the EBP South Amazing People Awards for Amazing Secondary School who promote enterprise and employability and we are delighted to have won.
Sarah Coles, Head of Information Advice and Guidance and Rights, Respect and Responsibility, said "young people need to be prepared for a world which is rapidly changing. Many of the jobs they will do when they leave school do not yet exist and they will probably have several jobs during their lifetime. It is therefore essential that schools and teachers are at the heart of careers education for young people, ensuring that they receive the guidance and motivation needed to lead them towards a successful career".
Tania Harding, Assistant Headteacher, was presented with our award, "Park Community School is delighted to receive this award. It is important to us that our pupils are ready for employment and we provide enterprise opportunities within the curriculum and through relevant work experience, including our Print Shop. Connecting with local businesses and offering mentoring from leaders has been key in pupils gaining skills to be successful in the workplace".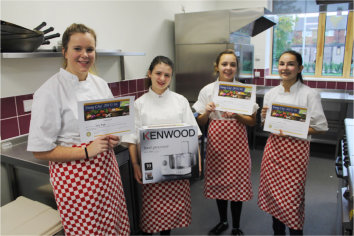 Rotary Club of Havant Young Chef Competition
Park Community were hosts for the annual Rotary Young Chef of the Year Competition, which was a resounding success. All that were involved with the competition, commented on our amazing facilities, including the judges, one of which, a Head Chef from The Brookfield Hotel said "the facilities are amazing, better than my own kitchen".
All students worked really hard and were a credit to themselves and the school. An amazing achievement, especially Izabella Darmanin, our youngest contestant who came first and now progresses to the next round which will be at Southdowns College in January. Congratulations to Izabella and to the other contestants from Park, Emily Briggs, Tayla Chapman and Lauren Hollis.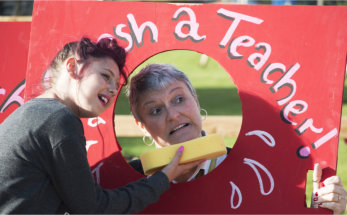 Children In Need
Park Community School embraced Children In Need, with a variety of fete style fundraising activities to include space hopper racing, welly wanging, wet sponge throwing, baby photo competition, sweets in a jar and lucky dip. Whilst the students enjoyed a non-uniform day, the teachers made a fantastic effort in dressing up for the day and in total Park managed to raise £520. Christopher Anders, Headteacher said "I think Children In Need is a very important charity for us as a school to support because it's a charity the children can relate to. All of the children want to get involved because they know, in turn, it is supporting other children".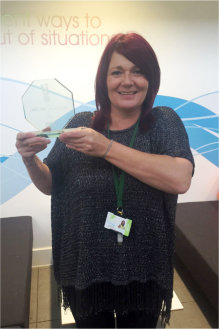 The News
We Can Do It Awards
Park Community School were nominated for the We Can Do It Award for Best School, following the Race At Our Place, whereby all staff and students ran 2.6miles from the school to Leigh Park Gardens and back again. This is something the school has done for 4 years now, but this year Park raised a huge £2000.
The school was shortlisted down to 6 nominees and were invited to attend an Awards Ceremony at The Kings Theatre in October and WE WON!! Georgie Harris, Teacher from Park Community School received the award, "It was a genuine surprise as there were so many worthy nominees, but a credit to all staff and students at Park and just proves that if all of us can work so well together to support each other, in turn we are raising awareness and much needed funding for a cause that touches so many people's lives".