School investing in its 'much more than'
Full marks for Radio Crew as Community Station creates links with local school.
A rock based local radio station has joined forces with a popular school in Havant. 'The Flash' radio station has signed an agreement with Park Community School which will give the not for profit broadcasters a new home and create exciting opportunities for the school and its students.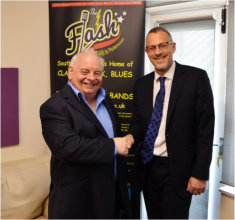 The station's programmes have been broadcast from a portacabin located at a public house in Havant. Station founder & Managing Director, Martin Kirby, said 'We had great times at The Curlew but had outgrown our surroundings. The pub's future was also in doubt and while searching for a new home one of our volunteer presenters put me in touch with the school. On my first visit I was instantly inspired by the school's approach and the modern facilities it offers its students and community, so it soon became obvious that we could be of benefit to each other".
The Flash will be broadcasting from The Apex Centre in Havant, which is leased by Park Community School to provide practical skills based learning for students from Park and other schools. The Flash radio will also offer students a chance to learn media skills and opportunities to assist in producing broadcasts. A monthly programme to promote the talents of students and parents at the school is also planned.
Christopher Anders, Headteacher said "This opens up vast opportunities for our students in gaining real life' broadcasting experience by producing programmes and features on the station". The Flash is available on DAB radios broadcasting to the Portsmouth area and via its website www.theflashonair.co.uk.
Ex-Students celebrate wedding at Park!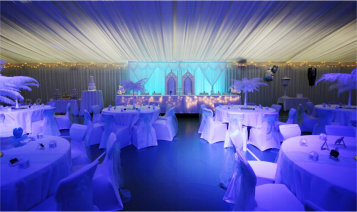 With over 200 guests to cater for, Charnade Ebbage and Dave Cottingham were in need of a large venue to hold their wedding reception. As ex-students of Park Community School they were delighted when they discovered that they could hold their reception at the school in its lavishly decorated sports hall Newly-wed Charnade said "we were both so happy with everything that Park Community School has done. It was a pleasure to have it at the school where I went, it really did look amazing. I felt as though I was in a fairy tale and would definitely recommend it for a wedding venue. We had so many lovely comments about how beautiful it looked! Thank you all so much, we really can't thank you enough".
Engaging through sport
Our Coastal Rowing Project is uniquely placed as a Sport for Development project to bring about change for disengaged youth, by using the engagement power of sport in combination with workshop vocational education and training.
Our project combines learning transferable practical work place skills through accessible skiff boat building and carpentry tasks in a workshop environment, with, learning and progressing in the sport of traditional coastal rowing.