Apex Centre
Park Community School's Skills Centre
Overview from Christopher Anders, Headteacher
The most recent addition to our school facilities is the Apex Centre in Leigh Park. The centre has a construction skills workshop, and a garage area. We host practical courses, helping those who wish to work in the construction industry. It is also home to our new boat building project.

What They Think!
Len Carter – Skills Instructor - "All students that come to the Apex Centre have the opportunity to achieve the Level 1 Laser qualifications and gain unique 'hands on' industry experience. They can discover new talents whilst learning the industry rules and regulations. I hope students progress to apprenticeships and full-time employment. Some students have shown the potential and skills to become future trade people should they wish to pursue this path into the building industry."
Mitchell Mabe (Y10) - "I like going to the Apex because we can get a Level 1 in construction and we have the chance to get a job when we leave school because we have experience in construction."
Ben Lambe (Y10) - "I like coming to the Apex Centre because I can get a Level 1 qualification in construction skills. I attend because I want to work as a builder when I am older. I like doing practicals like brickwork which will help me find a job."
Mason Lee Williams (Y10) - "The reason I like coming to the Apex is when I am ready for a job I will have the right experience."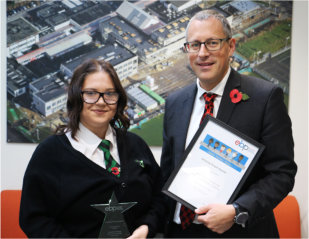 'Tis the season for Park to shine & be inspired
EBP South - Amazing People Awards
Park Community School and Park Community Enterprises were both worthy winners of two awards at the EBP Annual Amazing People Awards in November. Daisy-Mae Armstrong was nominated for the Amazing Work Experience category and was delighted to win. Daisy commented "I enjoyed my work experience because everyone was really nice and friendly, they welcomed me and made me feel comfortable. My favourite part was learning a whole new experience, it has made me more confident and has encouraged me to embrace any opportunity that comes my way."
Sarah Coles, Park's Careers Co-ordinator said, "Daisy initially wasn't keen on the idea of work experience, however after a few conversations Daisy admitted she had an interest in cosmetics. With support from her mother we managed to get a placement at Boots, where she clearly thrived. Daisy has developed confidence andmotivation to achieve."
Park Community Enterprises was recognised with the Amazing Business who Promote Enterprise Award. Gary Dickens, Enterprise Coordinator at Park said, "Park Community Enterprises was set up by the school because we want to be much more than just a school and together we continue to show this to an ever increasing audience. I am very proud of PCE Ltd, as are my co-directors, and we will continue to provide further work based opportunities. These come through not just PCE Ltd but also at our construction centre, the Apex centre, and our market garden, currently providing produce for our award-winning catering team."
An inspirational day with Aaron Phipps Paralympic Wheelchair Rugby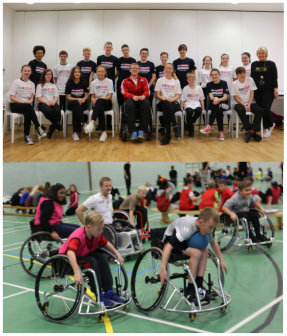 150 Sports Ambassadors from Park Community School were fortunate enough to have a Sky Sports for Living Athlete Mentor carry out a two-hour practical workshop and then visit a variety of classes and take an assembly.
Part of a Youth Sport Trust initiative, the purpose of the visit was to inspire and motivate young people to achieve their best. This was demonstrated by promoting mental toughness, developing the hunger to achieve, using people skills, raising awareness of knowledge of sport, at the same time breaking down barriers and planning for success. Aaron Phipps talked about his journey to becoming a 2012 Paralympian, in which he had endured having his feet and some fingers removed at the age of 15 due to meningitis. He then became determined to be successful and trained hard to be a Paralympian and went on to climb Kilimanjar,o by crawling, for the Meningitis trust. The first ever disabled person to do this!
Aaron was impressed by our students and was overwhelmed by their empathy and maturity, during the workshops. Aaron explained "I am really impressed with how proactive the young people have been and how they have participated in a most mature and enthusiastic way! I hope they will use the messages of positive thinking, resilience and determination that we discussed in the session, now and in later life. They are a superb group of young people."
Cain Holmes, student at Park Community School, said, "Today has been a real eye opener for me, the experience that Aaron has been through and the challenges that he has met have been outstanding. He shows that there is light at the end of the tunnel if you change your thoughts and see the best in awful situations."
Yiannis Razzell, student at Park Community School, said, "Aaron, through his experience and practical activities, taught us about being resilient, standing on our own two feet and thinking about problems as things to be overcome and not let them dominate your life."
Janice Norman, Sports Ambassador Coordinator at Park Community School, said, "We had a most inspirational day and as usual our students responded accordingly and really participated in an enthusiastic, considerate way. I am so impressed with Aaron's frank delivery and how much empathy and respect came from our students to Aaron. Aaron's story is an example to us all. I will never forget this. We had an amazing day!"
The Sports Ambassadors organised and ran a mixed activity event with 120 Year 5 students from Warren Park School and Year 7 students from Park Community School. They had a Wheelchair Rugby Tournament, Crab Football, Sitting Volleyball and Badminton. Havant Rugby Club were present to encourage them to join their club and as a result of the day have been invited to do workshops at Havant Rugby Club next week.
Aaron, with fantastic enthusiasm and positive spirit, encouraged students to never give up and be positive in their attitude at all times. He also talked about hanging your thoughts to see your way around problems.
It was an amazing afternoon with comments like "We had such good fun and we are lucky to have an Olympic athlete with us." Keira Griggs. "It was so brilliant." Warren Park Student. "Loved every minute of it." Lily Moore, Park Community School