Park students and staff were lucky enough to take a life changing trip to Tanzania with the charity Grassroots.We interviewed a member of staff, here is what she had to say: Is it a long term project? Grassroots have been working in Tanzania for over 20 years, and have taken groups from various different schools. This was Park's first trip, but we want to create an ongoing link with Grassroots and Tanzania. What made you decide to do it? Barney, one of our pastoral workers in the school, and the family leaders came up with the idea in the first place, the intention was to provide pupils with the opportunity to go on an amazing trip, helping others and broadening their horizons. Where did you go and what did you do? We spent most of our time in Mbeya, in the South West of Tanzania, we delivered blankets and food parcels to the poorest families and helped feed children as part of the Grassroots feeding programme. We visited secondary schools, delivered chickens, made and delivered water filters, helped enrol children onto the sponsorship programme and spent the last day on the beach near Dar Es Salaam. How long were you there for? 10 days in total. How many students and staff went? We had four staff plus Sharon, the Grassroots founder, and 13 Year 10 students. My personal quote: Our visit to Tanzania was incredible - a powerful experience. We have all come back with a changed attitude to what matters and to what we really need. I was amazed and inspired by the Tanzanian children we met, but also by our students who embraced every challenge with open minds and worked hard without a single moan. I feel very privileged to have taken part in the trip and hope to go back one day! - Sophie Ryle.

Challenge Week
July is when students spend a week out of their comfort zone and experience things that they would not normally face in the usual school day, we call it Challenge Week and here is what happened.
It started with Year 7s using the first two days creating a play for a day, resulting in a performance of the Lion King which was shown to a very appreciative audience of pupils from Riders school. Year 7s were also able to explore different cultures and languages at the end of the week and joined in flamenco and Copoeira lessons.
Year 8 highlights were a day looking at rocket science and shooting off their own rockets, creating their own crystal maze style problems for Year 6 from Riders School to solve and finishing off with making fashion out of trash… trashion!!
For many Year 9s the Thursday was their highlight when they went on the hottest day of the week to Staunton Country Park to develop and challenge their orienteering and problem solving skills. They finished the week with a huge litter picking expedition around the local area on a community scheme to keep their own environment spick and span.
Year 10s definitely say that the driving extravaganza was the best bit of their week. They were given an opportunity to drive a car and learn key driving skills. They embraced this with enthusiasm and want to do more. They had already learnt about safety features in a car in a crash test science day. They also had a day reflecting on their recent work experience and where they want to be when they leave school.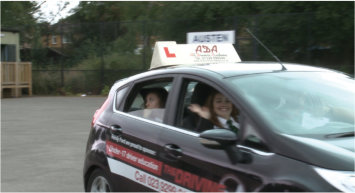 Springwood Park
We are delighted to announce that we will be launching our new pre-school facility, Springwood Park Pre-school and nursery this September, Manager Rachael Carr explains:
"Springwood Park Preschool and nursery offer quality childcare and education 51 weeks a year (term time contracts are also available). We have a friendly, committed, qualified team supporting children 0-5 years old in their learning and development. We offer fun, interesting and challenging play and experiences for all children. Our fantastic school site allows our children to experience "school life" having access to the school restaurant to eat home cooked meals, access to the school playing field to visit the school goats, or learn to care for animals in the school petting area. Springwood Park offers much more than other nurseries! Sign up today!"
Housebuilder Visits Park
Representatives from national house builders Barratt Homes visited Park to give an assembly to students on the benefits of a career in the construction industry. Barratt Homes staff also worked directly with groups of students on building homes for the 21st Century.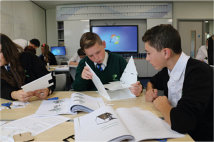 Awards Evening
Awards Evening Recently held in our new theatre, the annual awards evening for outstanding students was attended by The Mayor of Havant, Councillor Leah Turner and Paralympic medallist, Ian Rose.
Students from each year received a medal, certificate and book voucher. There were also three Headteacher Awards to Jasmine Bone YR7, Piper Willoughby YR8, Fatoumata Ceesay YR9 and the presentation of the Yvonne Weeks Trophy to YR8 student Frankie McMullan.