It was always been something of a myth that parchment made in Havant was used for the writing of and signing of the Magna Carta in 1215.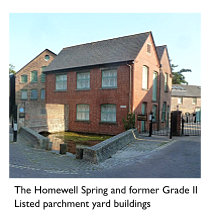 In his new book Parchment and Glove Making in Havant, author Ralph Cousins cast doubt on this as it can in no way be proved. Another claim was that the waters of the Homewell spring were the reason why Havant parchment was whiter than other made elsewhere. It appears that white fleeces tended to produce white parchment and local Southdown sheep were white..
Having said this, Ralph's book is filled with facts and dating back many hundreds of years and that parchment making in the area gave employment to many men and women.
In 1653 St Faith's Church records were written on parchment but whether or not this was made locally again cannot be proved. Indeed the only positive record of parchment making in Havant dates from the late 18th century. It finally finished in 1936 when the last yard closed.
Alfred Stent's glove making empire began in May 1916 when he opened a purpose built building in Brockhampton Lane. He had a staff of one hundred including skilled workers brought in from the Yeovil and Westbury.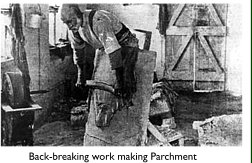 An apprenticeship of five-years was needed to become a craftsman in the manufacture of making gloves.
One aspect of working for Mr Stent was his up to date attitude to his workforce. He supplied a staff room for his workers to take rest and eat their food.
The 104-page A5 book is excellent value at just £6.00 from the Havant Spring & Arts Centre or from Ralph himself on 023 9248 4024.