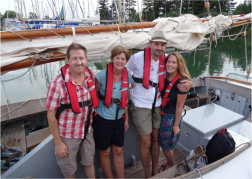 With thoughts turning to summer, now is the time to start making plans to try something new. Living in this area what could be better than a summer day out on the water in a vintage sailing boat? This is now possible with trips onboard the traditional oyster boat Terror that sails from Emsworth.
Terror is over 125 years old and is the last remaining boat from the oyster fleet that worked out of Emsworth. Now fully restored, this unique boat takes just six passengers at a time for an unforgettable trip on Chichester Harbour.
Trips last for around two hours, no sailing experience is necessary. The boat is crewed by experienced volunteers who are happy to let you have a go at putting the sail up and down and even taking a turn on the tiller! This is a wonderful way to see the natural beauty of Chichester Harbour and perhaps even catch a glimpse of one of the harbour seals.
The boat trips only run from May to September. Trips are scheduled around the tide so some are first thing in the morning and others run into the early evening. Why not take the opportunity to see the harbour at a different time of day and book now for one of the best days of your summer!
More information at www.oysterboatterror.org.uk or call Emsworth Yacht Harbour 01243 377727.