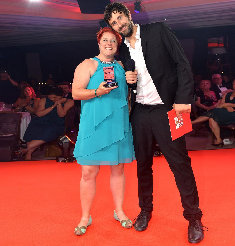 I am the Press Officer at Over The Wall which is the UK branch of the late Academy Award winning actor Paul Newman's SeriousFun Camps. We provide therapeutic, fun and FREE camps for children with serious health challenges—and for their siblings. We also offer camps for their entire families. Every detail is carefully planned-- from our intentional Therapeutic Recreation based programme to our discreet medical care. Sir Kenneth Branagh is our Patron. (Here is a link to our website: http://www.otw.org.uk/)
Zoe Grant; our Volunteer Director, WON the Volunteer Manager of the Year by Third Sector Awards at the Lancaster Hotel in London on September 14th. In total there were 300 entries submitted from more than 200 unique organizations across the UK. The awards recognized those who give back to the community and celebrate organisations and social leaders from across the charity and not for profit sector. Here is their website. http://www.thirdsectorawards.com/ Third Sector also has a publication with a readership of 55,000!
There were four other people nominated in Zoe's category (there are a total of 26 categories in total, including awards for teams, partnerships and campaigns). Zoe joined our charity in April of 2013 and has grown our volunteer numbers by 40%, from 456 to 638 in 2015. In addition, Zoe was instrumental in helping secure a £100k 3 year Big Lottery Grant to develop this work beyond 2016.
Zoe said about the award: It is a privilege to receive the award. I am thrilled that the exceptional and unique experience we offer at Over The Wall camps has been recognized for it.