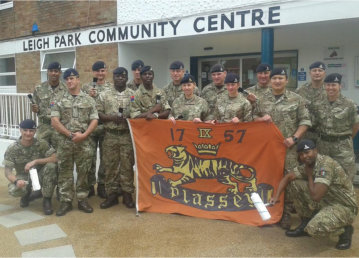 17 volunteers from 9 (Plassey) Battery, 12th Regiment Royal Artillery took some time out from their state of High Readiness to help out at a local community centre. The Battery based at Thorney Island wanted to do something to engage with the local community and contacted Community First to find out where the help was most needed. Troop Commander Lt Sarah Keracher, says "Having some down time during our High Readiness commitment, whereby we are deployable any where around the world at 30 days notice, we wanted to offer our skills and manpower to benefit a local community project".
Gnr Nathan Style says "it has been great to get out of camp for a couple of days and help out our local community. We have been really busy painting the reception area and two meeting rooms and we even managed to get some on the walls! I would particularly like to thank the Right To Work Volunteers at Hewitt's who made us five amazing cakes".
Over the two days the team painted three main areas of Leigh Park Community Centre which were in need of freshening up. Recently Community First took over the management of the Centre and were really pleased the local Army personnel were able to volunteer some of their time. Janet Duggan, Business & Community Project Lead at Community First comments "We would like to thank the team from 12th Regiment Royal Artillery for all their hard work over the two days. We would also like express our appreciation to Brewers Farlington for donating all the paint and materials used to decorate the rooms. This has enabled the Community Centre to carry out much needed and long awaited improvements to the building. It has been an amazing two days and demonstrates true community spirit when everyone comes together".
Leigh Park Community Centre is open 5 days a week, Monday to Friday and is available for room hire. Contact Leah Martin, Centre Co-ordinator on the new number – 023 9247 6382.
If you would like to find out more about the Employee Volunteering Scheme or get involved in volunteering email janet.duggan@cfheh.org.uk