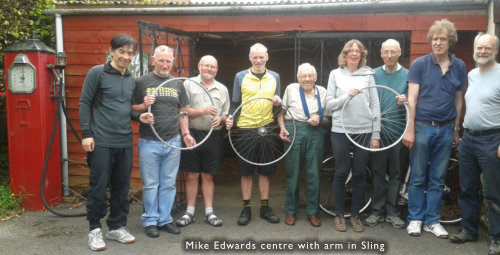 Mike Edwards , a veteran member of Portsmouth CTC, treated eight members to a demonstration of how to build and repair bicycle wheels at his house.
Unfortunately Mike had suffered a small accident so he was unable to do a demonstration as planned but all the members took turns working under his direction.
I had ridden over on my 1987 Peugeot bike with steel wheels which we wanted to change to modern aluminium rims which are lighter and brake better.
First we removed the front wheel. There are 36 spokes in each wheel and each has to be loosened and then removed to the new rim before being tightened up again to exact tension otherwise the wheel will be wobbly.
To give everyone a chance to learn, and also to speed things up, at one time we had four peole spaced around the wheel attending to nine spokes each.
This way we had two wheels completed by lunch time.
After lunch we refitted the tyres and put the bike back together while Mike produced two more wheels that needed 'sorting' The first was seriously buckled and needed the rim removing and flattened out where it had buckled, and then rebuilt.
Mike then went on to produce just the hub from the middle of a wheel, a rim, and a bundle of spokes, and set about explaining the correct way to build a wheel starting from scratch.
Mike has the special frame needed to hold the wheel while it is turned round to make sure the hub is 'dead central' and there are no wobbles in it. There always are, so each spoke has to be tightened up in turn to get the balance right.
During the day Mike's wife Ann kept us supplied with tea and coffe as well as some delicious home made biscuits to prevent brain starvation, and at the end we had eight enlightened cyclists.
I was the lucky one who rode home with new lightweight wheels on my old bike.
You can find out about the CTC's activities at http://www.portsmouthctc.org.uk