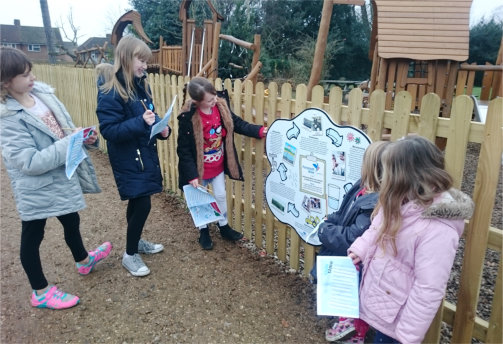 Exciting new Water Trail at Staunton Country Park as education partnership with Portsmouth Water is extended by a further 3 years
Staunton Country Park in partnership with Portsmouth Water, are pleased to launch a new Water Trail featuring a code breaking challenge and quiz for schools and visitors.
The trail takes you around the Farm Park searching for twelve boards of information looking at the importance of water, how we use water and how we can be more water efficient. Visitors need to read the information to answer the water quiz and find the hidden numbers and letters on the boards to crack the water code words. Once complete, visitors can collect their prize of water saving stickers from the Visitor Centre.
Staunton Country Park and Portsmouth Water are also pleased to announce that they have extended their education partnership for a further 3 years. The partnership, which at the end of this agreement will have reached 15 years, aims to promote water efficiency and to deliver a 'Water is Life' programme to schools looking at the water cycle, water supply and treatment as well as water conservation. Both organisations are committed to deliver a variety of fun and interesting activities to spread the word that everyone can do something to save water now and save the environment for tomorrow.
Ian Limb, of Portsmouth Water says "The key aims of this partnership are to teach our community, in particular future generations, the importance water has on the planet, the supply process and most importantly why we all need to use water wisely. A few simple changes today will help save the environment for tomorrow. Working in partnership with Staunton allows us to engage with the local community in getting this very important message across."
Gemma Summerfield, Education and Community Manager at Staunton Country Park said "We are really pleased that we have extended our education partnership with Portsmouth Water for a further 3 years. The partnership allows us to introduce new activities such as the Water Trail to the park. With the new Water Trail we have worked with designers to create an exciting, fun new trail that informs visitors on the importance of water and links in with the national curriculum so that schools can use the trail as a teaching resource when visiting the Park. The new trail complements our Water is Life session which is a fantastic way for schools to have a go at water experiments, discuss the water cycle, water treatment and water conservation."