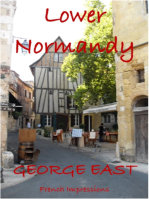 Dear Friends of the Flea
After 4,000 miles of having to travel around Normandy, checking out history and culture and people (and bars and restaurants), the latest French Impressions book is out in e-form. A hard job but someone has to do it.
The paperback will appear next month or so. Every copy of the e-book sold earns us the price of a very small glass of wine in one of our 227 favourite locals in all France. Salut.