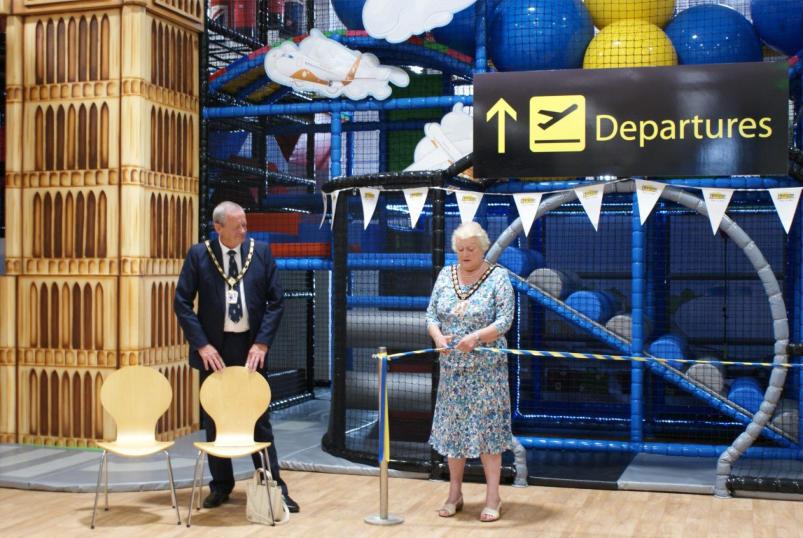 On Friday 3rd July it was the official opening of the new café, 3-storey gym, large exercise studio and Horizon World of Play, an Indoor Play Centre with a toddler and sensory area, at Waterlooville Leisure Centre.
The Mayor of Havant, Councillor Leah Turner said 'I am really pleased to be able to open such a lovely facility.'
The large investment into the centre has been saved up by Horizon Leisure Centres over the past 7/8 years and is a welcome addition by users to the current swimming pool, learner pool and steam and sauna rooms. The extension includes a 3- storey gym, exercise studio and Horizon World of Play and children's party rooms.
At the end of the event everyone was given an opportunity to test Horizon World of Play with the theme played on it really is great way for children to stay healthy whilst having fun.
Children 'Check-In' at reception and can get their 'Passports stamped' before they travel around the world.
They can climb skyscrapers in the USA, visit the Leaning Tower of Pisa in Italy, play football at Wembley Stadium, slide in the Antarctic and visit the toddler's area in Australia.
A local school and nursery had been invited in the morning to test Horizon World of Play and the children loved the new facilities saying it was great fun. At the end when asked if they learnt anything they put their hands up with many reading the facts about the countries they have been playing making it not only fun, healthy but also educational.
Horizon Leisure Centres runs both Havant and Waterlooville Leisure Centres on behalf of Havant Borough Council it is only one of a hand full of Leisure Trusts in the Country that operates without any operational subsidy